SCIENTIFICALLY STUDIED INGREDIENTS TO HELP RELIEVE MENOPAUSE SYMPTOMS
A delicious caffeine-free herbal tea that helps reduce hot flashes, brain fog, mood swings and other menopausal symptoms. Made with natural ingredients, it's helping women all over feel balanced and loving life again!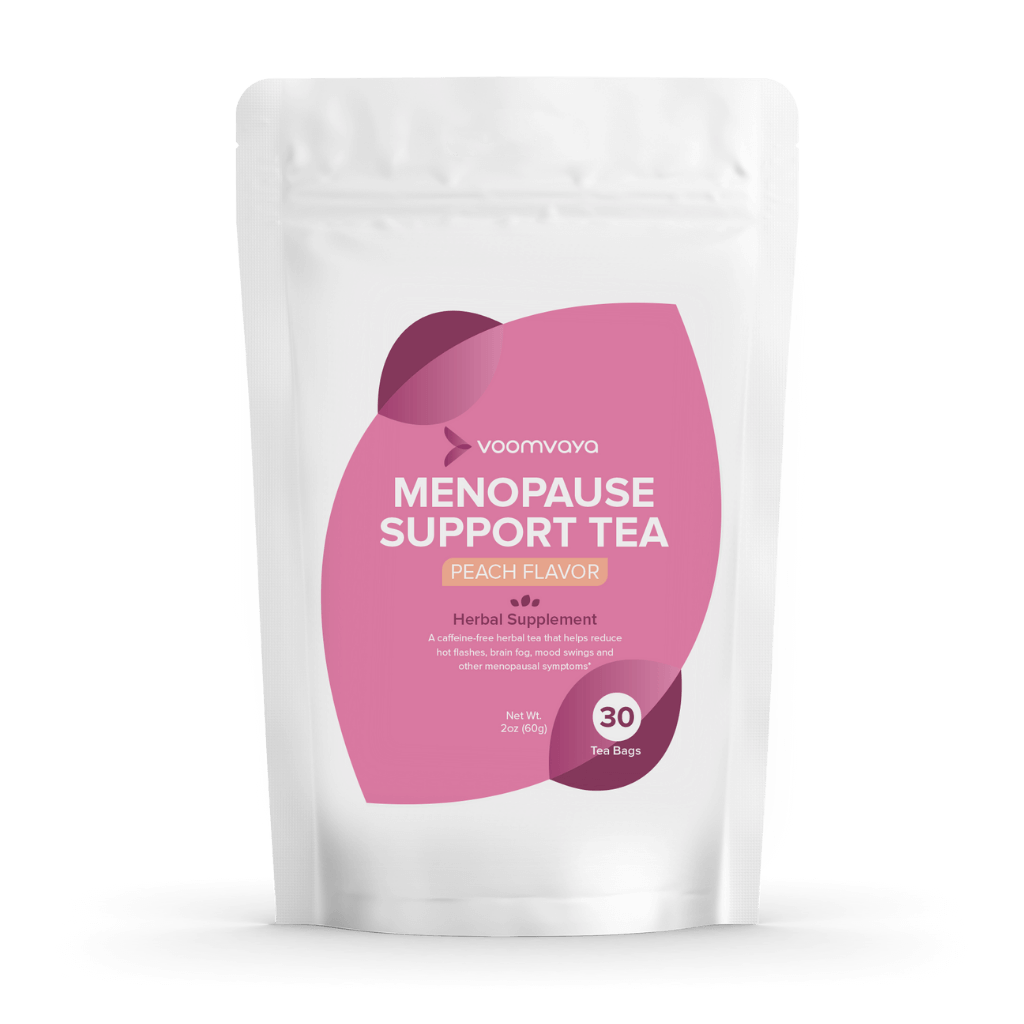 HELPS RESTORE HORMONAL BALANCE
Designed to help peri-menopausal and menopausal women restore balance back to their body naturally. Helps reduce hot flashes, assists in stabilizing mood swings, supports memory, promotes energy and helps women feel like themselves again!
NATURAL SOLUTION TO MENOPAUSE SYMPTOMS

For women who want drug-free relief from the symptoms of menopause, this body balancing tea blend is the perfect solution. Every ingredient is organic, natural and scientifically studied to support you through the challenges of menopause.
ORGANIC INGREDIENTS, CAFFEINE, GLUTEN AND GMO FREE
Menopause Support Tea is caffeine-free, gluten-free, GMO-free, handpicked and blended with care. Every sachet of tea is made to the highest standard of quality.
NATURAL AND NON-ADDICTIVE SOLUTION TO SLEEPLESS NIGHTS
A relaxing, caffeine-free herbal tea with a delicious creamy vanilla taste. Specially formulated to help menopausal women fall asleep faster and stay asleep at night. Helps increase estrogen, helps decrease night sweats and relaxes your body for a restful sleep.
SLIP INTO THE DEEP, BLISSFUL SLUMBER YOU DESERVE

Fast-acting ingredients that go to work quickly, so in 30 minutes or less, you could be so calm and relaxed you're ready to snooze in your soft, comfy bed. With less night awakenings and in a more relaxed state, you can finally enjoy eight hours of well-deserved, deep and restful slumber.
Drink this every night for as long as you need, without ever worrying about getting hooked or "dependent" on it, because every single ingredient is non-addictive and non-habit forming.
ORGANIC INGREDIENTS, CAFFEINE, GLUTEN AND GMO FREE
Rejuvenating Sleep Tea is caffeine-free, gluten-free, GMO-free, handpicked and blended with care. Every sachet of tea is made to the highest standard of quality.
MENOSLIM TEA + TEATOX BOOSTER

KICKSTART YOUR WEIGHT LOSS JOURNEY AND STOP MENOBELLY IN ITS TRACKS
MenoSlim Tea & TeaTox Booster is a two-step weight management process. TeaTox Booster is a gentle 14-day TeaTox to kickstart your healthy menopause weight loss journey while MenoSlim Tea is an everyday use weight loss tea that helps boosts metabolism and helps burn body fat.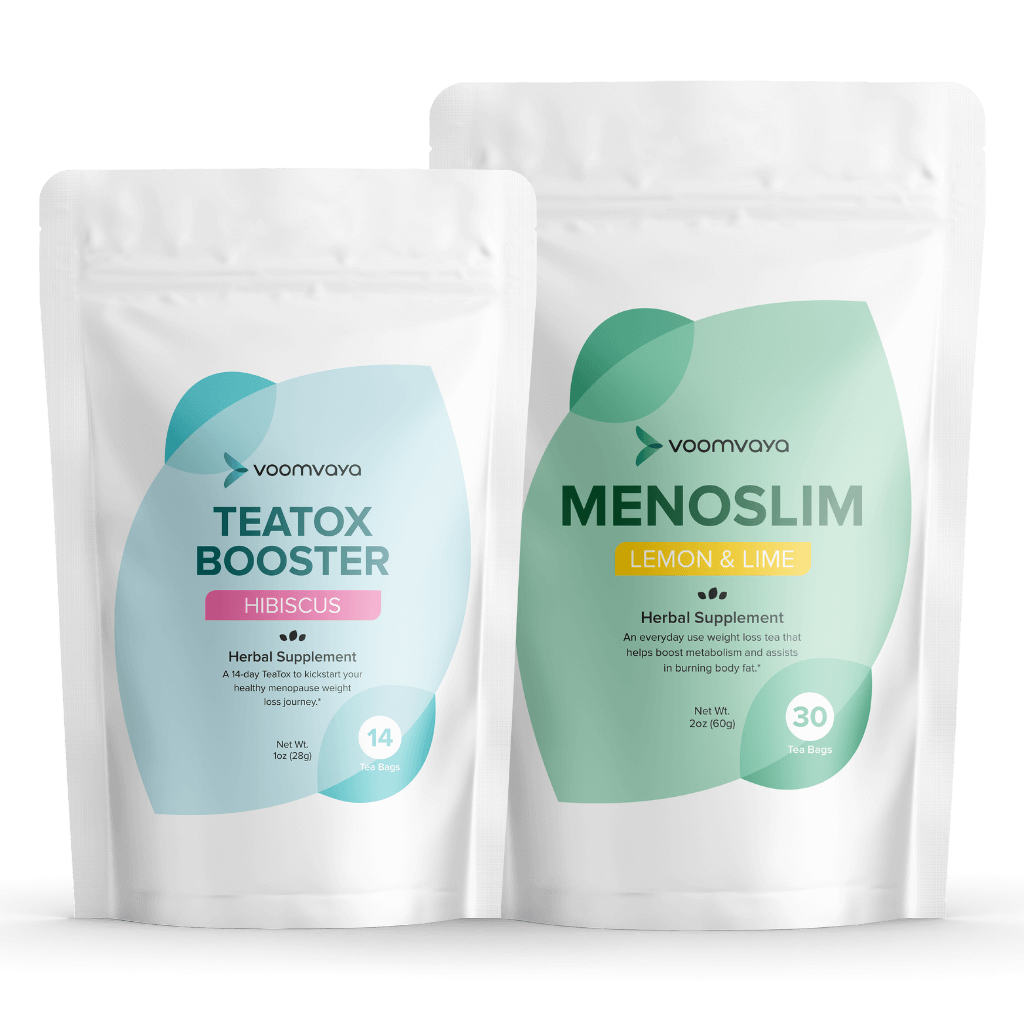 HELPS DETOX AND FLUSHES TOXINS OUT

MenoSlim Tea + TeaTox Booster helps to accelerate natural fat burning in your body to help reshape the body, including the belly and thighs. Start feeling fresher, lighter and more energized today!
HELPS REDUCE BLOATING & OTHER MENOPAUSAL SYMPTOMS
Reduces bloating, resulting in a flatter tummy so you can look and feel different, sometimes in a matter of days! Also relieves hot flashes, night sweats and mood swings by helping to restore hormonal balance.
NATURAL AND ORGANIC INGREDIENTS

Handpicked and blended with care, both MenoSlim Tea and TeaTox Booster are also non-GMO, gluten-free, and made with organic and natural ingredients.
DE-BLOAT PREMIUM MULTI-STRAIN PROBIOTIC

HELPS REDUCE BLOATING AND FLATTEN YOUR TUMMY
A natural dietary supplement that helps boost your immune system, promotes healthy digestion and helps reduce bloating. It contains the specific strains of good bacteria your gut needs to stay balanced and healthy, especially during menopause.
HELPS TO QUICKLY DECREASE BLOATING

Helps decrease bloating caused by water or gas retention, sometimes within just 2-3 days. This leads to a visibly flatter stomach so you can look and feel your best!
MAINTAINS OVERALL DIGESTIVE HEALTH
Helps improve your whole digestive systems, so you start to feel more regular, less abdominal pain and discomfort, and have more energy again.
SUPPORTS MENOPAUSAL WEIGHT LOSS
Continued use of several months of a probiotic like De-Bloat with estrobolome-balancing bacteria can also help with ongoing weight loss.
---

JOIN THOUSANDS OF WOMEN...
Freeing Themselves From Menopausal Symptoms With Voomvaya!

Hear the stories on how women have managed their menopause with Voomvaya!
STILL NOT SURE WHICH PRODUCT IS RIGHT FOR YOU?

Answer a few simple questions below to find out what Welltopia product might be right for you!