Never Pay Full Price Again!

Join The MenoSlim "Subscribe & Save" Program And Save 20% Off Every Order…
Conveniently Delivered To Your Doorstep Every Month!

20% Off Always - not once, but every single month!

Free US Shipping - a $7.95 value on every order FREE to you

Free Shipping Insurance - if any order is lost, stolen or damaged during transit, you get an immediate replacement, free of charge!

Extra Freebies -be surprised by occasional free gifts, product samples and more

Concierge Support -the best-in-class customer service is just a phone call away

Monthly Reminders -before every shipment so you can modify however you want

Zero Risk, Cancel Anytime -no contracts, no minimums, absolutely no strings attached! Cancel any time!
Plus Get TWO Free Gifts When You Subscribe Today!

Start your MenoSlim "Subscribe & Save" subscription today and receive a free 14-day TeaTox Booster (valued at $19) with your first order.
Plus for this month only, you'll also get this beautiful VoomVaya glass tea tumbler for free (valued at $24.99)
Psst… We love surprising our members
So don't be surprised to occasionally find an unexpected freebie with your monthly order… ranging from tea tumblers to eye masks and even samples of our newest products!
A Different Flavor Every Month

From Apple Cinnamon to Acai Berry, Lemon Lime and more.
Get a different flavor every month and enjoy some variety in life
A Different Flavor Every Month

By using clinically studied ingredients that help balance low estrogen levels, VoomVaya's MenoSlim is one of the only weight loss solutions that targets this major underlying factor in menopausal weight gain.
We believe focusing on the root cause and naturally supporting the body with the nutrients it needs is the only way for true, long-lasting weight loss results.
And it's why our most successful customers, with the best results, recommend using MenoSlim month after month.

I've lost 22 pounds in the last two months. Wow, that's never happened before. I din't know I could lose that much weight. I was topping about 147, 148 on the scales some days. At the doctor's office, I weighed 134, I was like, whoo! I haven't weighed this since I was in my 30's. Try the teas, you'll like them, you'll enjoy them, they taste really good, and hopefully you're going to get your mojo again like I did. Cheers!
- Sandy*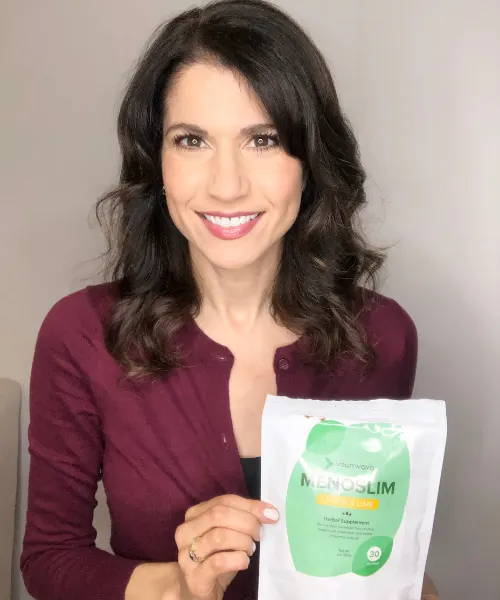 All Good Stuff & No Crazy Ingredients That Can Mess You Up


Not only is it delicious but it's an easy way to help reduce those negative things that can happen as we get older. I'm finding it helpful in terms of cutting back on the belly fat, in terms of increasing my energy, boosting my mood. All good stuff and no crazy ingredients that can mess you up. I'm really liking it!
- Stacey*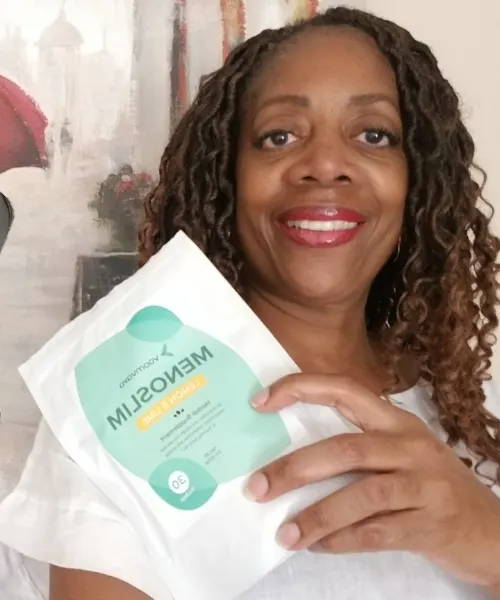 Reduced My Belly Bloat And Hot Flashes


I've only been using the product for 8 days now but I will tell you this: it has reduced my belly bloat, and it has reduced my hot flashes. I am not gonna lie. You know, when you can't button your pants, the pants that you wore last week, who wants that? This tea, I'm going to keep using it because, for me, it works! And I suggest you try it because it might work for you, too.
- Valerie*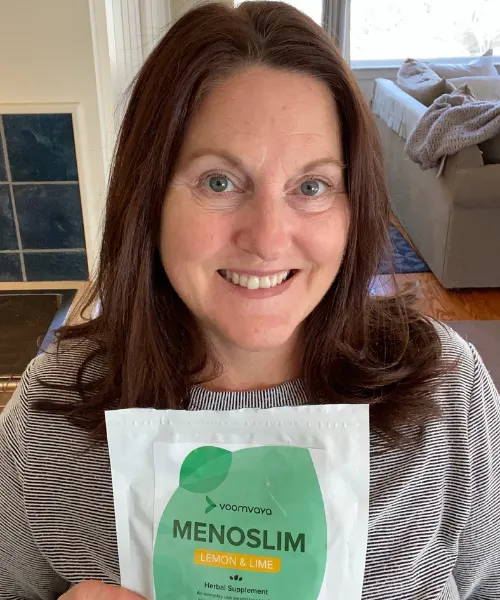 I Got On The Scale & I Lost 4 Pounds. Amazing!


For the last 5 years, I have gone through so many symptoms of menopause. I've had hot flashes, I've had weight gain, bloatedness, crankiness. A friend of mine a couple of weeks ago brought me these wonderful teas. I started on the Teatox Booster and I took it for one everyday for about two weeks and I started to lose weight! And I started feeling better. I got on the scale and I lost 4 pounds - it was amazing! - which has been a struggle for me. And then I switched over to the MenoSlim which has a lovely Lemon Lime flavor, and that has really helped to keep that balance, to have more energy, and to really start feeling like myself again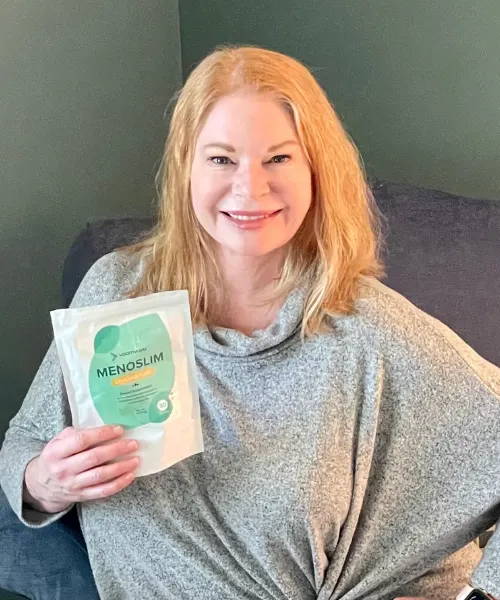 Lost 8 Pounds And My Bloating Is Gone!


It's been three weeks. I'm supposed to do it for a month... but I'm done. Because it's working! Now, let's be real for a second. It seems too good to be true that a tea could help with this enormous problem when even diet and exercise didn't. I swear to you.. my bloating is gone! And.. the best part: I've lost 8 pounds! Unbelievable! I never thought drinking a tea could help this much. Wish me luck on my journey to continue drinking this tea every day. I do recommend it!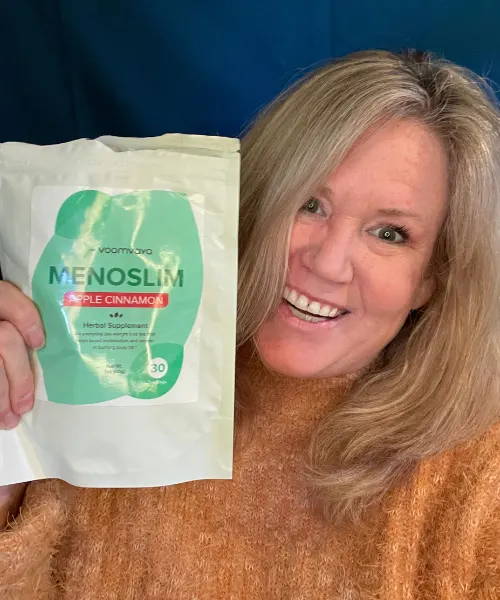 Nothing Seemed To Work... Until Now!


I started noticing mood swings, and facial hair, but probably the worst, at least to me, was the weight gain. And it seemed like I was always bloated, no matter what I put on, my stomach was sticking out. I felt gross, the scale kept showing I was getting heavier and heavier and I tried so much. I tried exercising, I tried fasting, I tried some weird pills. Nothing seemed to work.. UNTIL NOW.
- Rebecca*
No Strings Attached, Cancel Anytime

No contracts, no minimums, absolutely no strings attached!
Cancel your MenoSlim "Subscribe & Save" program at any time (not that you'll ever want to!)
Just call our friendly customer service team, or send us an email, and we'll cancel your subscription, no questions asked!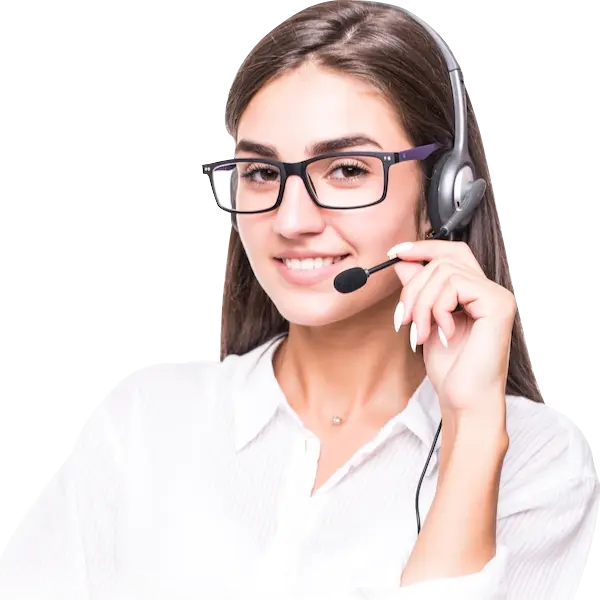 Risk Free Thanks To Our 100% Money Back Guarantee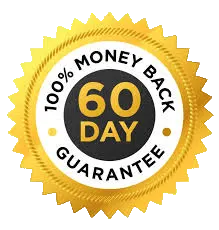 Try VoomVaya's MenoSlim for a FULL 60 DAYS and if for any reason you are not 100% THRILLED with your results:
You get a complete 100% refund, no questions asked!
That's how confident we are that you'll love the life changing effects of VoomVaya's MenoSlim…
One of the only weight management solutions designed for the menopausal woman.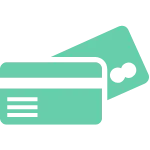 Click on the button below to go to the checkout page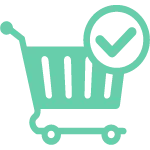 Enter your shipping detail and payment information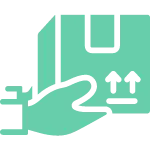 Sit back, relax and enjoy a new shipment of MenoSlim to your doorstep every month
Join MenoSlim's "Subscribe & Save" Program Today!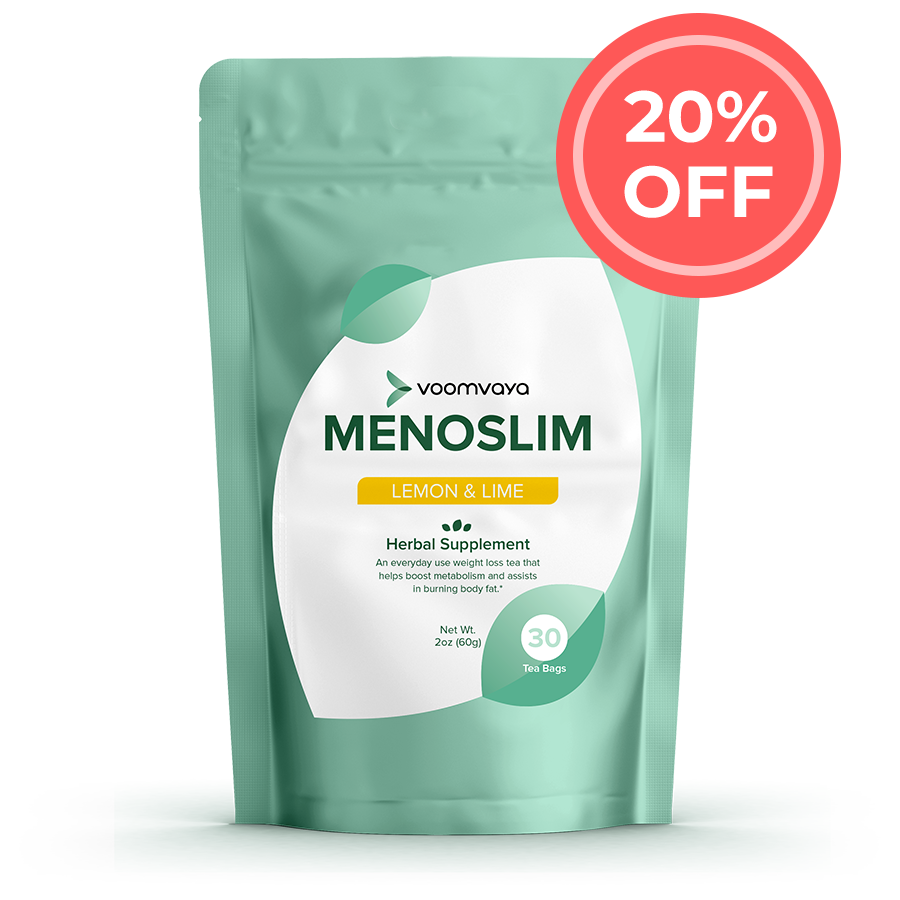 ---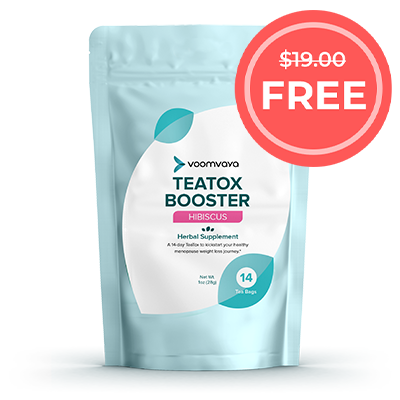 + 1 FREE TEATOX BOOSTER ON YOUR FIRST MONTH
$19.00 VALUE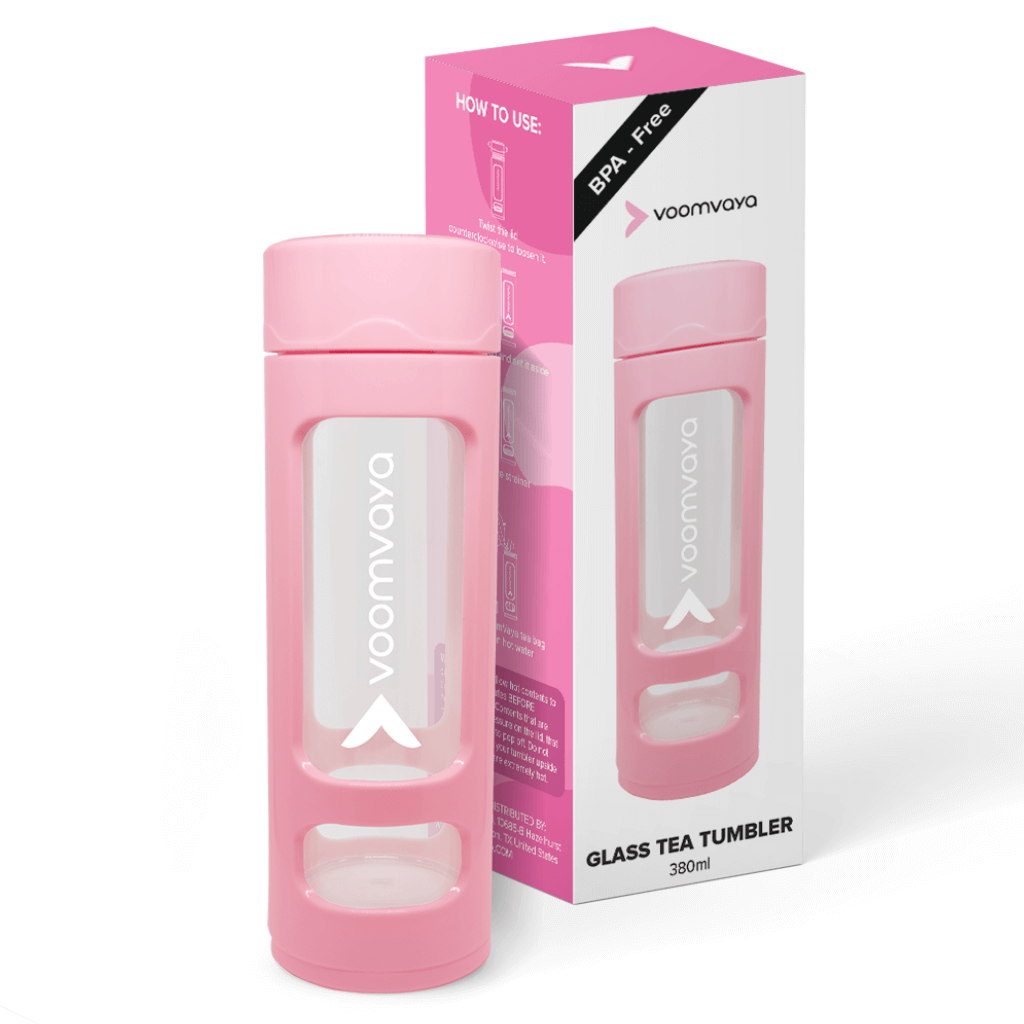 + 1 FREE VoomVaya Glass Tea Tumbler
$24.99 VALUE
---
60-Day Money Back Guarantee

Frequently Asked Questions

What is the MenoSlim "Subscribe & Save" program?
The MenoSlim "Subscribe & Save" is a monthly autoship program that will conveniently send a new pouch of MenoSlim tea directly to your doorstep every month.
How much does the MenoSlim "Subscribe & Save" cost?
$39.20 every month. Your subscription always receives 20% off, including free shipping, free shipping insurance and a range of other benefits.
When will I be billed for the MenoSlim "Subscribe & Save"
"Subscribe & Save" is on a 30 day billing cycle. So every 30 days your nominated credit card will be charged $39.20 as your newest pouch of MenoSlim tea gets sent directly to your doorstep.
How can I cancel my "Subscribe & Save" subscription?
Very easily! Simply contact us via email at support@voomvaya.com or speak to us on +1 (833) 592-1938 during office hours 10am-6pm EST and we'll cancel it for you immediately.