Effortlessly Reduce Your Calorie Intake With Mother Nature's Best Appetite Suppressant…

And Accelerate Your Potential Weight Loss Results Today!
SPECIAL OFFER
Subscribe and Save 20%
DOUBLE YOUR ORDER: MenoTrim Gummies
Never have to think about reordering

Free US Shipping

Cancel at anytime
$00.00 $00.00
I've Lost 10 Pounds In Just A Couple Of Weeks & I'm Way Less Bloated
What is the worst thing about menopause? There's a lot of things, right? But weight gain, and bloating, what is up with that? I didn't really change my diet but all of a sudden I started just gaining weight really around my belly area, and bloating.
So then one day, I saw these Menotrim gummies. So, I bought them and, oh, my gosh! Am I so glad I did! Two gummies before each meal, that's all you have to do.
I've lost like 10 pounds in just a couple of weeks, I'm waaay less bloated. My whole belly area is flatter, I can button my pants again. I feel comfortable in my skin again. Just by taking two gummies and these are delicious-tasting. These have apple flavor. They have apple cider vinegar in them which we know is good for us. They're just amazing! I love them and you need to try them!
Helps Soothe My Belly & Takes Control Of My Appetite
It helps soothe my belly and takes control of my appetite. I'm looking forward to my meal but I'm not ravishingly hungry. That helps because during those crazy menopause years where our hormones are just a rollercoaster, we need to take care of ourselves, we need to take care of our weight. It's also organic and very healthy.
I've Easily Lost 5 Pounds Within A Month!
Aside from the hot flashes, hormonal roller coaster, I started putting on extra weight especially around my mid-section. She suggested I try an apple cider vinegar gummy called Menotrim.
I've easily lost five pounds within a month by eating two gummies before every meal and reaping the benefits without making a huge lifestyle change. Menotrim tastes like apples without that sour vinegar flavor and it uses vitamins and natural ingrdients to naturally curb my appetite and cravings while still stabilizing my mood swings.
My family is beyond grateful! Boy, have I been moody! It helps reduce the severity of my hot flashes, improves the brain fog that's been slowly creeping in. I'm feeling lighter, energized and in control for the first time in months. I'm starting to feel like myself again and I love it!
Introducing Apple Cider Vinegar,
Mother Nature's Best Appetite Suppressant…
We all know the simple truth to weight loss: the less you eat, the more weight you lose.
And thanks to Apple Cider Vinegar…
Eating less is actually a lot easier than it sounds!
In fact, by now you've probably already heard of all the benefits of Mother Nature's wonderful appetite suppressant: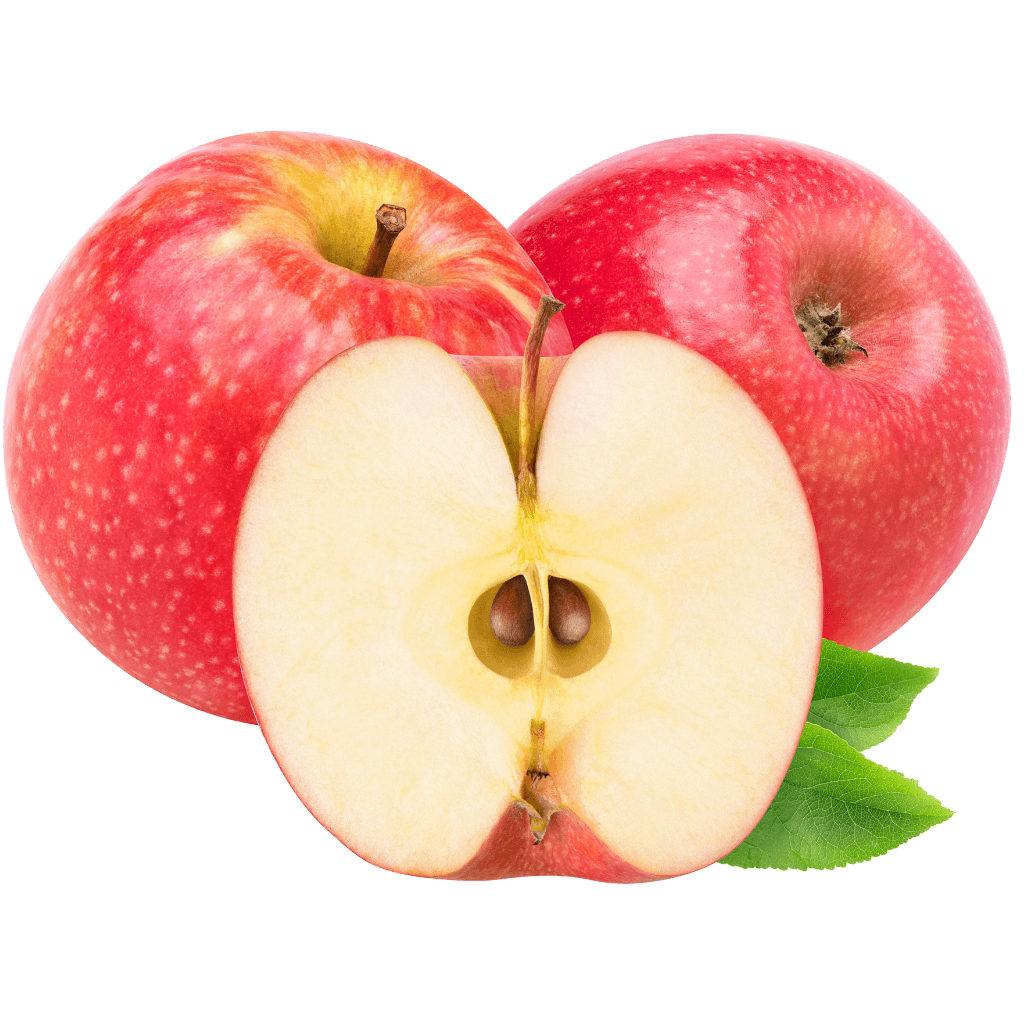 Apple Cider Vinegar: Apple Cider Vinegar helps to accelerate weight loss by suppressing your appetite and making you feel full, so you end up eating and snacking less. 6,7 In fact, a 2009 medical study discovered that daily consumption of Apple Cider Vinegar helps reduce belly fat 8 and long term can help balance blood sugar levels 9 and reduce bloating and constipation. 10
In short, Apple Cider Vinegar has been an absolute Godsend to anyone looking for a reliable way to reduce their calorie intake…
And accelerate their potential weight loss results.
Every Apple Cider Vinegar product out there is a generic one-size-fits-all approach, designed for the masses.
Which is fine if you fit into that category…
But we need something better.
Because as a menopausal woman, with our fluctuating hormone levels…
We have unique needs.
And we need an Apple Cider Vinegar formula custom designed for us.
So it comes as no surprise the reason VoomVaya's MenoTrim Gummies is so effective is because…
VoomVaya's MenoTrim Gummies Is The World's First Apple Cider Vinegar Gummies Designed For Menopausal Women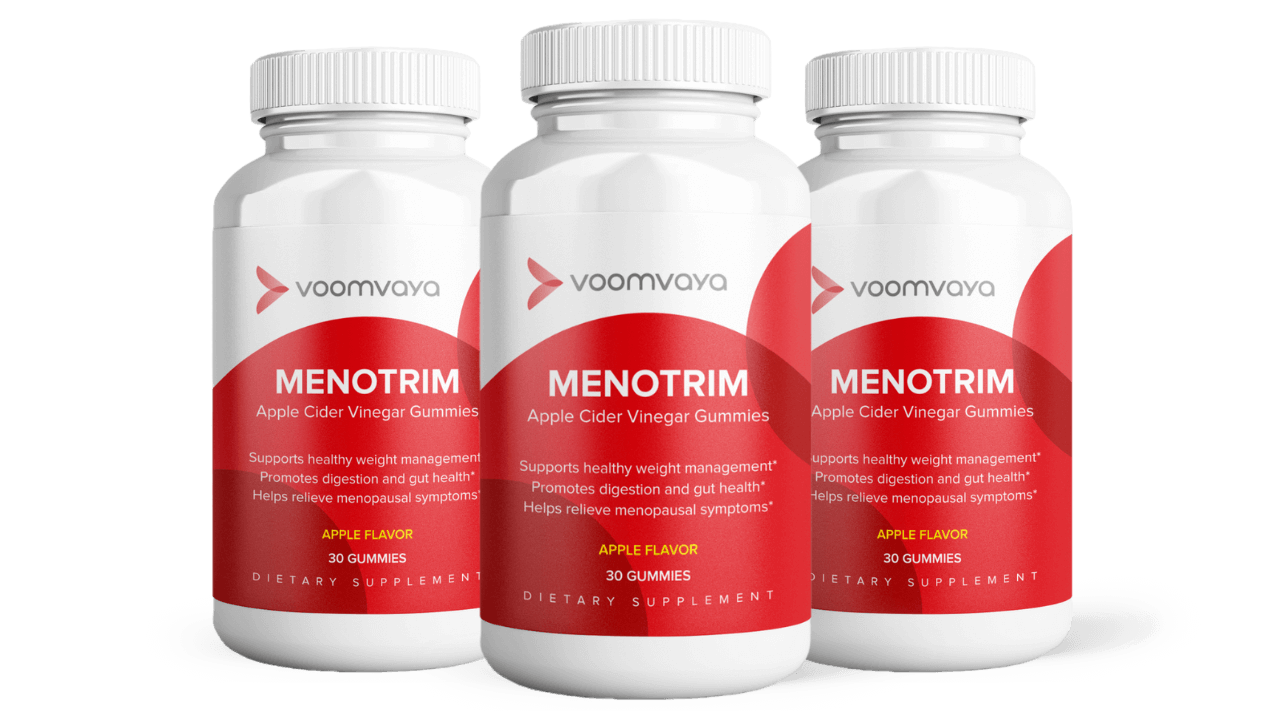 Every ingredient, the manufacturing process and even down to the gummy form…
Was carefully hand-picked and formulated for you, the menopausal woman.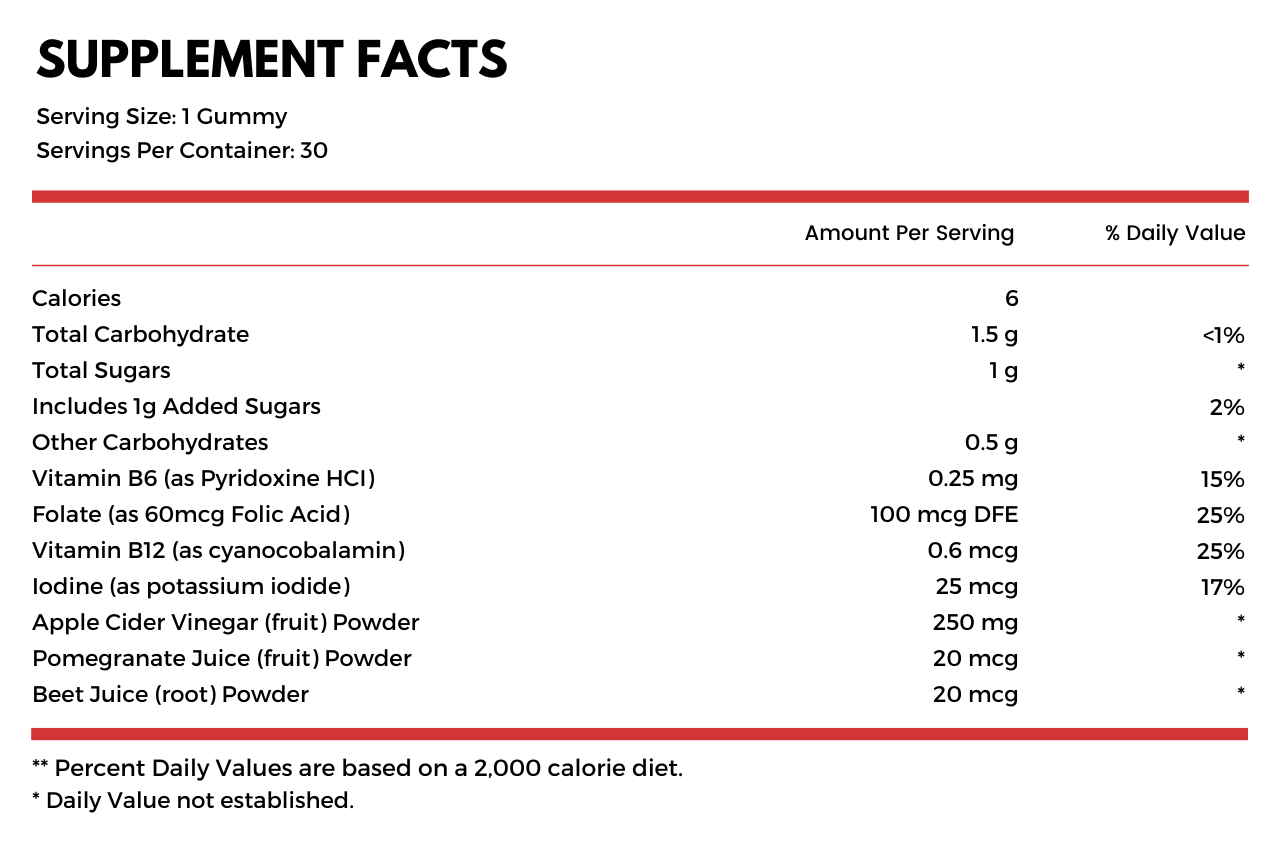 Each of these ingredients has a specific menopausal focus.
Pomegranate Juice helps stop the formation of belly fat, one of our biggest problems during menopause. 11,12 It also reduces cravings and suppresses your appetite to help prevent snacking and overeating. 13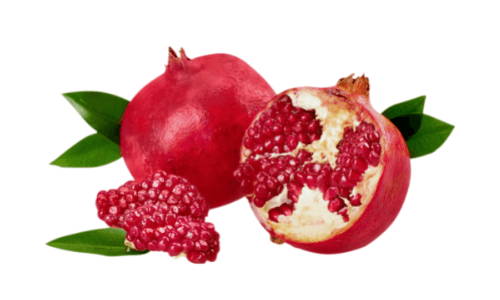 Beet Juice helps with hormonal balance by increasing progesterone levels 14 and supporting the liver with its hormone detoxification process. 15
Folate helps to reduce severity, duration and frequency of hot flashes 16 and also helps to stabilize mood swings. 17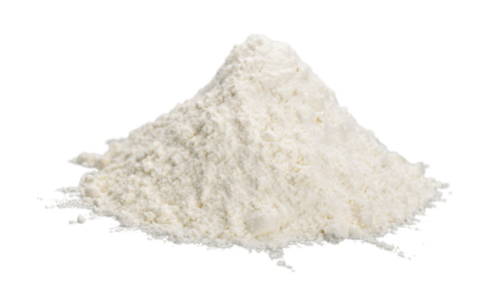 Iodine helps increase energy levels and with hormonal balance as it's an essential part of the thyroid hormone. 18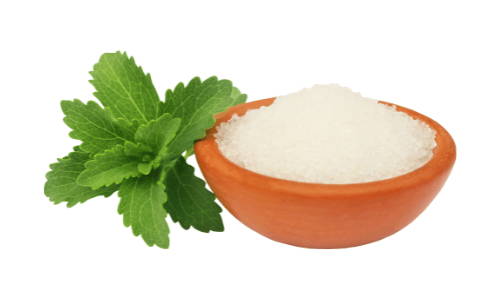 These Vitamin Bs are a fantastic natural way to increase energy, improve cognitive function and fight fatigue. 19 Basically everything we menopausal women call "brain fog".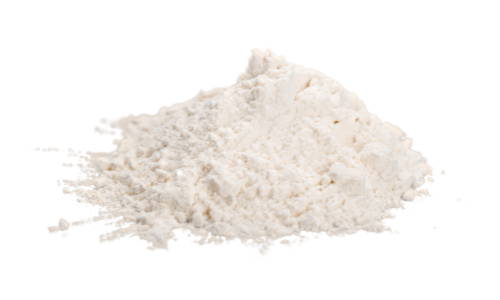 And best of all, it's wrapped in a delicious, apple tasting gummy!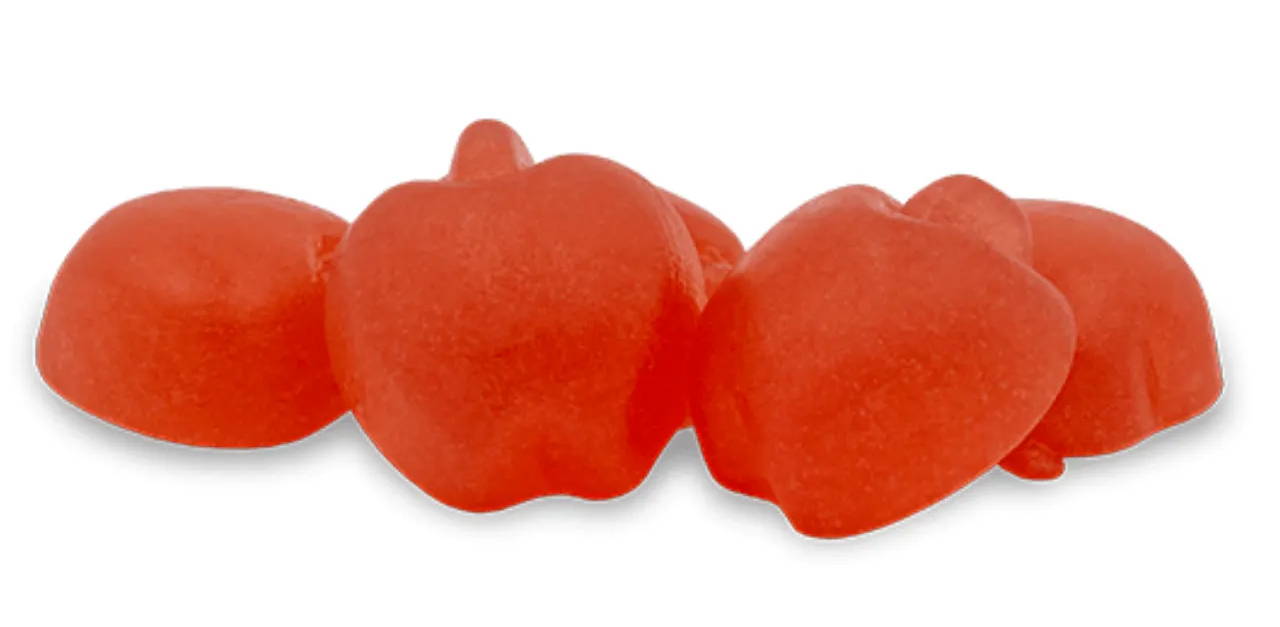 All apple, zero vinegar taste!
Because aren't you sick of tablets and capsules?
Aren't you sick of menopause being treated like some kind of disease that needs a cocktail of pills to "fix"?
We sure are!
And because our mission at VoomVaya is to make life fun and enjoyable again:
We figured if we can make something delicious, that still packs in ALL the health benefits…
That makes you happy…
And tastes like a reward instead of a poison…
Well, making it a gummy is a no brainer then isn't it?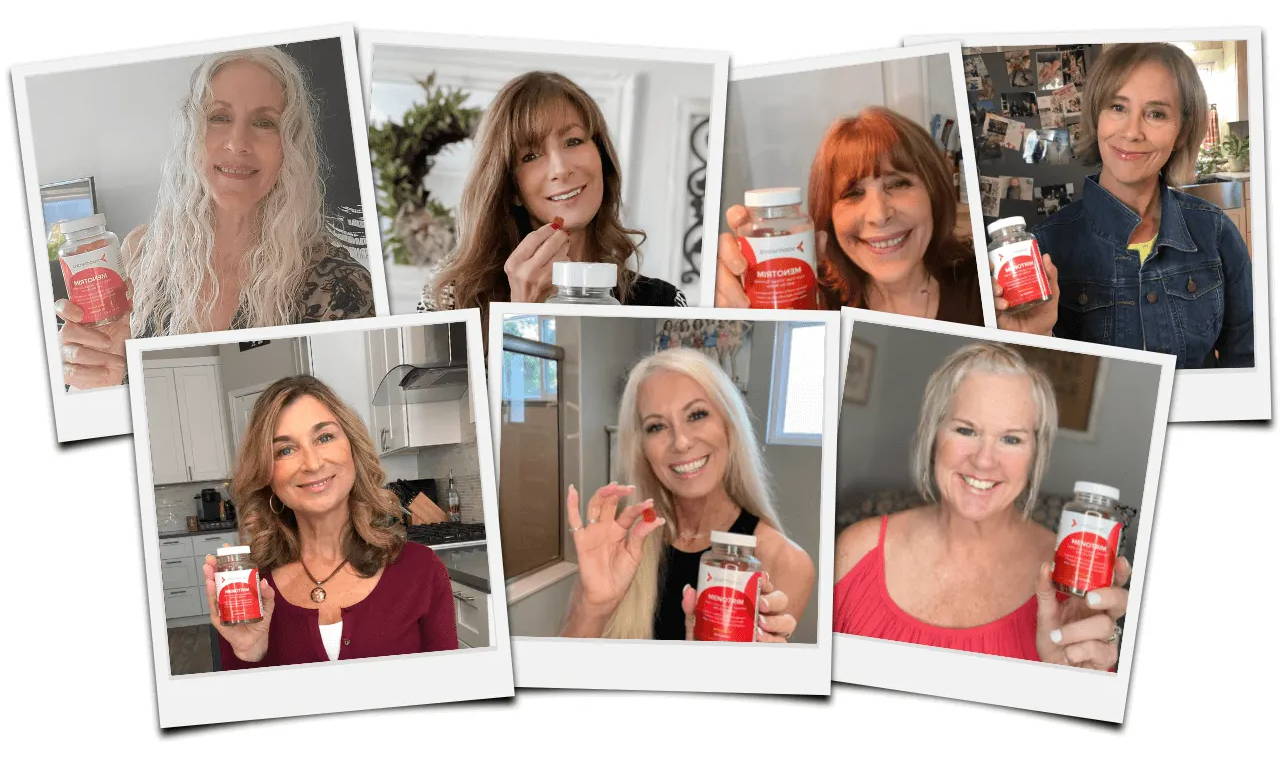 Reward Yourself With These Delicious Gummies, Reduce Your Calorie Intake And Accelerate Weight Loss… All At The Same Time!

If you struggle with snacking but want a reliable way of reducing your calorie intake…
Or simply want to accelerate your weight loss results…
Then add VoomVaya's MenoTrim Gummies to your daily routine today…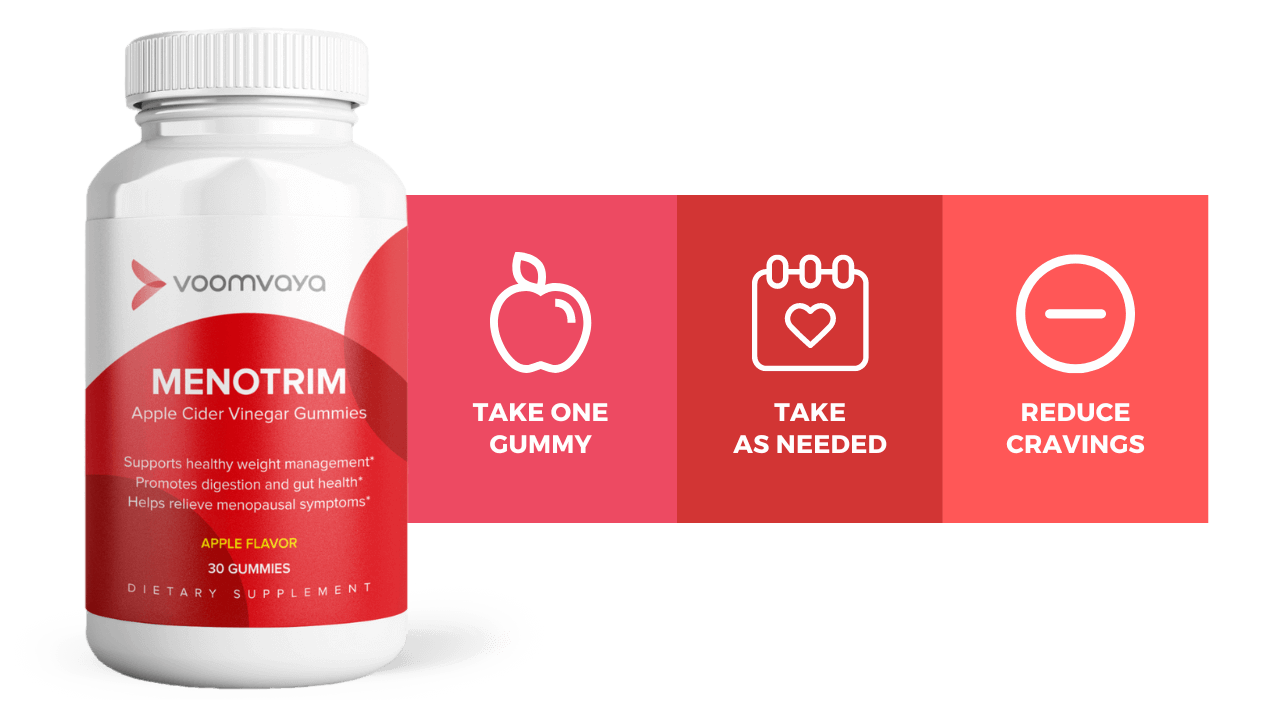 Research backed ingredients clinically shown to deliver the promised result


Pure, organic and 100% nature-powered ingredients you can actually pronounce


Manufactured in our pristine FDA registered facility in Arizona


Absolutely risk free to try with our iron-clad 60 day money back guarantee


Vegan-friendly, GMO-free, dairy free and caffeine-free

Delicious, fruity apple flavor with none of the vinegar!

And Of Course, You're Completely Covered By A 60 Day 100% Money Back Guarantee!

You can order today with absolute confidence!
Try VoomVaya's MenoTrim for a FULL 60 DAYS and if for any reason you are not 100% THRILLED with your results…
You get a complete 100% refund, no questions asked...
Making it literally risk-free for you!
Just call us or send us an email…
And a FULL, no questions asked refund will be immediately returned to you.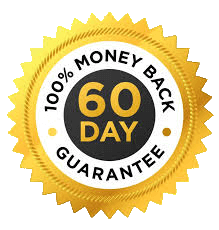 Same Great Product, Brand New Packaging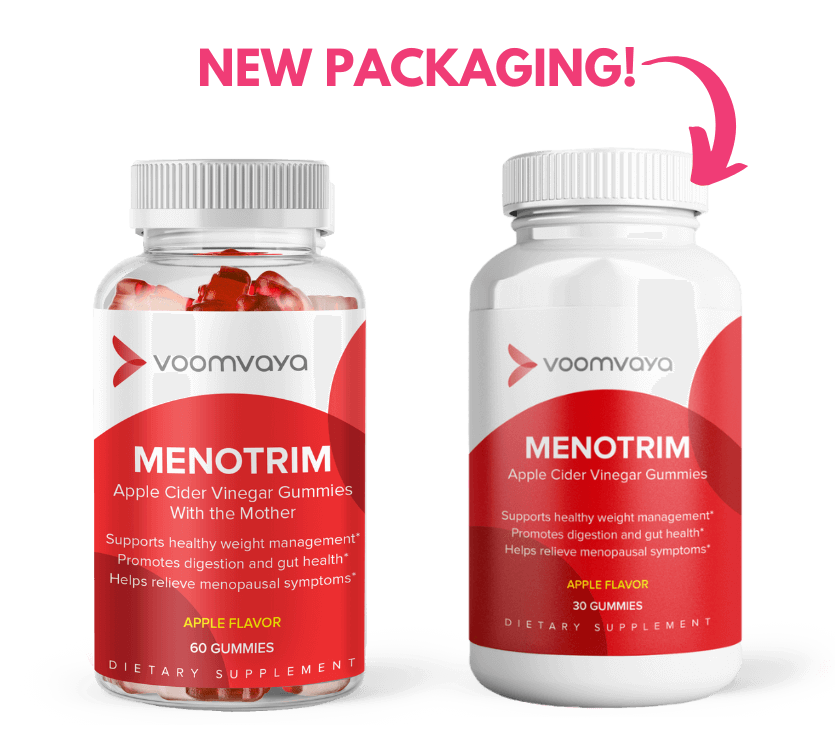 Join Women All Over America Loving The World's Only Apple Cider Vinegar Formula For Menopausal Women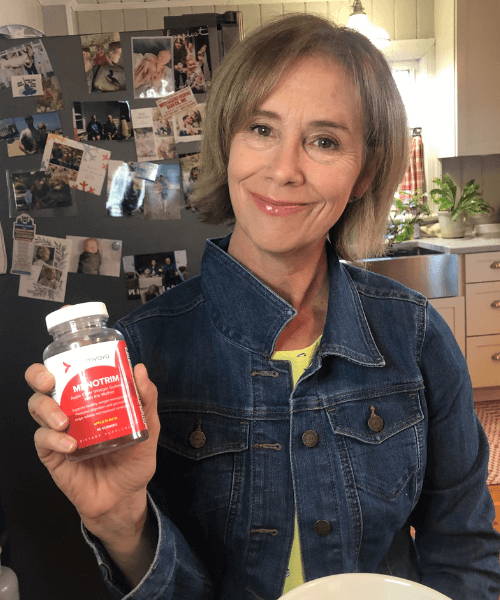 This Is Going To Be Something That I Add To My Diet For The Rest Of My Life!

I've been using it for about three weeks and I have seen some significant results! My hot flashes have decreased, I'm not waking up like every couple of hours. I'm really into working out. I haven't really changed my diet but I have noticed some of my menobelly going down. The third thing is I feel clearer and I feel like I have a little more energy.
This is going to be something that I add to my diet probably for the rest of my life! I'm actually thrilled with this product.
- Bonnie
Helps With Bloating, Constipation, Helps You Not Eat As Much

Menotrim. Fantastic product! Laddies, you gotta try it! It's gummies and they're tasty because there's like pomegrenate, there's apple cider vinegar, and beet! There's even some beet juice in there! I love beets! It helps with bloating, constipation. It helps you not eat as much, it helps with some of the menopausal symptoms that we all get as we go through menopause. So you take two of these before you're going to eat a meeal. And it's like a treat, ladies. You gotta try it!
- Susan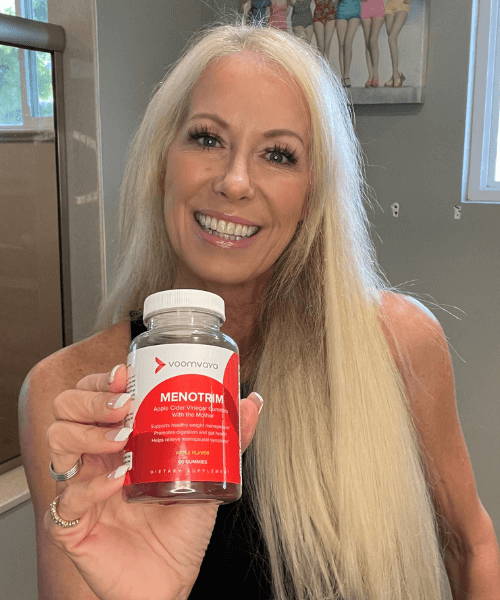 It Helps Relieve All My Menopausal Symptoms & Tastes Delicious!

I just started taking Menotrim Apple Cider Vinegar gummies and I'm feeling sooo good! Menotrim is awesome! It supports healthy wight management, promotes digestion and overall gut health, helps relieve all my menopausal symptoms, and tastes delicious! The best part is... I feel like myself again!
- Amanda
I'm Sleeping Better, I'm Refreshed, I'm More Relaxed, My Digestion's Improved!

Menotrim has made my life different. I'm sleeping better, I'm refreshed, I'm more relaxed! My digestion's improved. I can't tell you how helpful this product is. I'm happier! It tastes good and it works to take just the right amount of edge off your appetite. So, if you want some product to help you with weight management and staying in shape, or getting in shape, and being fit and trim, and able to do exercise, and live a healthy, long, happy, energetic life, I recommend Menotrim.
- Jackie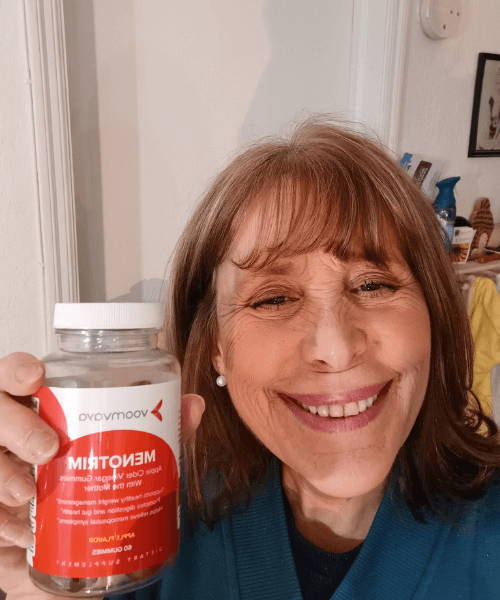 I Have A Lot Of Energy & I Lost 2 Pounds!

Since I started using Menotrim, it's only been a week and I feel so much better! My night sweats have definitely subsided and I love the taste of the gummies. And being that I have to take two gummies before a meal, it's like having dessert first and they taste so delicious! Also, I've noticed my mood swings have definitely improved. I'm definitely more up than down. I also have a lot of energy AND I lost two pounds! My appetite has definitely decreased and my belly bloat has gone down considerably. Also, I love the fact that it's GMO and gluten-free. I can't recommend this product enough as it's changing my life!
- Tracey
So If You're Ready To Accelerate Your Potential Weight Loss Results Today And Start Enjoying Life Again…

Frequently Asked Questions
MenoTrim is a delicious, chewy gummy containing scientifically studied ingredients that help women to accelerate their potential weight loss results.
What are the benefits of MenoTrim?
Helps stop the formation of belly fat

Helps with hormonal balance

Helps to reduce severity, duration and frequency of hot flashes and also helps to stabilize mood swings

Helps increase energy levels and with hormonal balance
Simply eat 1 gummy as needed.
How long will it take before I see some benefits?
Some people feel and see results almost instantly, but it really depends on individual needs and the complexities of each person's particular hormone imbalance.
Most customers have reported that they have seen significant positive changes in their body between 14 days and a month or two.
Does MenoTrim taste good?
Absolutely! It's delicious and literally tastes like a gummy bear!
All apple, zero vinegar taste!
Will I experience any side effects?

Every care has been taken to ensure the safest possible product and whilst the vast majority of women do not report any issues, every woman is different and it may be possible to experience some side effects.
If you experience any side effects or have any other concerns, we recommend speaking to your doctor before starting MenoTrim.
Can I take this if I'm on other medication?
Generally speaking, MenoTrim has few medication interactions, however if you are currently taking other medication, have any complicated medical conditions, or are concerned about safety in your specific circumstances, we recommend you speak to your doctor before starting.
Can I use MenoTrim long term?
Yes, MenoTrim is safe long term and many women report great results using it long term.
However if you are currently taking other medication, have any complicated medical conditions, or are concerned about safety in your specific circumstances, we recommend you speak to your doctor before starting.
Unfortunately not. Because of the way the gummies are made, they do contain gluten. If you are after a gluten-free menopausal sleep solution, we recommend VoomVaya's MenoSlim Tea, for a delicious gluten-free, GMO-free, dairy free alternative.
Do you offer a money back guarantee?

Yes of course. Like with everything you purchase on VoomVaya, you are always protected by a 60-Day Money Back Guarantee. If MenoTrim does not help you as promised, simply send an email to support@voomvaya.com and we'll issue a complete refund.
TRY US RISK FREE WITH A 100% MONEY BACK GUARANTEE