Slip Into A Deep, Blissful Slumber Tonight And Wake Up Tomorrow Completely Refreshed, With VoomVaya's MenoSnooze...

The First Complete Sleep Support Supplement Helping Menopause Women Reduce Anxiety, Support Deep Sleep And Balance Their Hormones!
SPECIAL OFFER
Subscribe and Save 20%
MenoSnooze gummies
Never have to think about reordering

Free US Shipping

Cancel at anytime
$00.00 $00.00
I'm Falling Asleep Much Quicker And I'm Staying Asleep Throughout The Night
I've never been a good sleeper and I've tried all sorts of things in the past like melatonin capsules, herbal teas at night, also tried shutting down my screen time before bed, to be honest nothing has really helped. I even used prescription medication one time which left me feeling like a zombie the next day.
With MenoSnooze gummies, which is actually really yummy, it's like fruit candies before bed, I take them 30 minutes before bed and I'm finding that I'm falling asleep much quicker and I'm staying asleep throughout the night. I'm waking up feeling a lot more refreshed and ready to start my day.
Within 20 Mins Of Taking It, I'm Fighting To Keep My Eyes Open
It's not addictive, which I love. Within 15-20 mins of taking it you definitely fighting to keep your eyes open. I like that it's got a nice passion fruit flavor. I like that it's something that I can take as often as I need without worrying any kind of addiction. I'm very grateful for this product. If you're someone who is struggling with sleep during menopause, give this a try.
I'm Waking Up Refreshed Ever Than Before!
MenoSnooze has been helping me reset my sleep patterns. I wake up so refreshed because I've slept through the night, not woken up in the middle of the night and I feel so much better! It's reset my rythm in my sleep pattern and I just wanna say thank you for MenoSnooze because it's doing the trick! I noticed a huge difference... I'm waking up refreshed ever than before. Thank you so much!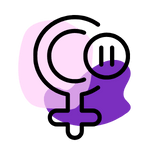 The Complete Sleep Support Designed For Menopausal Women
As you enter menopause melatonin levels decrease 5, which is why we included a scientifically proven dose of melatonin in VoomVaya's MenoSnooze to help rebalance these levels.
We believe in solving the underlying cause of sleeplessness during menopause, and allowing your body to naturally slip into a gentle slumber.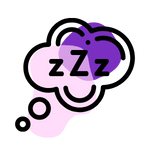 Fall Asleep Faster And Stay Asleep For Longer

Combined with ingredients to reduce anxiety and calm the mind, VoomVaya's MenoSnooze gently eases tension, putting you into a spa-like state of relaxation. Most women report drifting off to sleep within 20 minutes of eating these tasty gummies, and staying asleep for the longest they've had in years!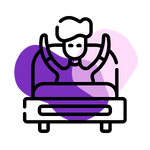 Wake Up Tomorrow Feeling Completely Rejuvenated

No sleeping pill hangover, no brain fog. Just wake up tomorrow after a full night of sleep, feeling energetic and full of life! That's the difference you get by achieving balance, instead of resorting to chemicals to "knock you out." At VoomVaya, we believe in naturally supporting your body to heal itself from the inside, out
We All Love Our Sleep, But After Menopause Our Sleep Doesn't Love Us Back

You know how it is…
You enter menopause and it seems like a switch is flipped.
Random hot flashes make you feel like you're walking through the Sahara desert…
Your mood swings from happy to balling your eyes out in mere minutes…
And your clothes start to fit tighter, especially around the waist.
But the hardest part is what happens to your sleep... Or rather how much harder it is to fall asleep.
Even if by some miracle you do manage to fall asleep, you're woken up by night sweats and a million racing thoughts that you can't seem to control…
Leading to more stress and more sleepless nights!
Well, as it turns out…
Menopause Slowly "Flips Off" Your Sleep Switch

During menopause, estrogen isn't the only hormone that is affected.
A hormone called melatonin also drops. 6
And this could be the reason why insomnia is a major problem in menopause.
See, melatonin is known as "nature's sleep hormone", and it's responsible for telling our body when to sleep, and how long to sleep for! 7
So it comes as no surprise that when melatonin levels drop… well, so too does our body's ability to sleep.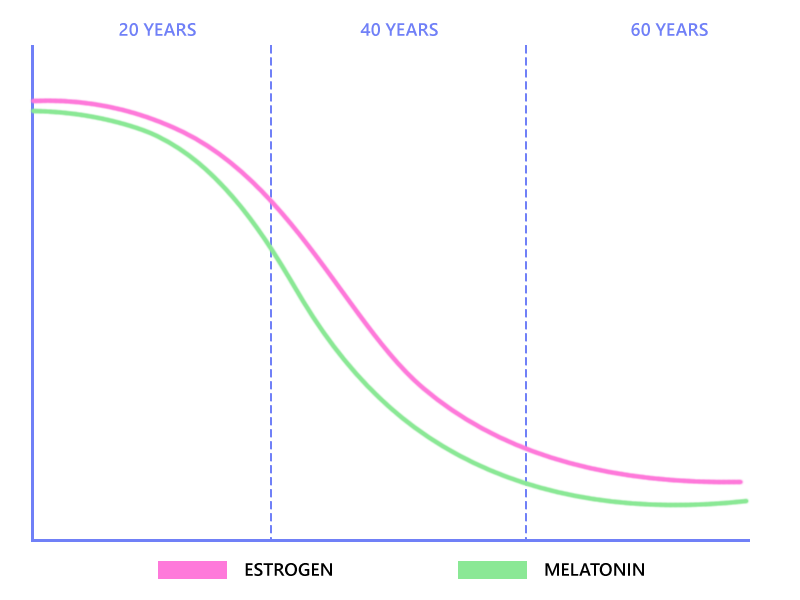 This Is Why Other Sleep Solutions Don't Work For Menopausal Women…

Or if they do, it's either very short lived…
Or worse, it comes with that groggy, hangover feeling the next morning.
Truth is, most other sleep solutions offer an incomplete solution to the specific problems women face going through menopause.
Us menopausal women have completely different needs, because key sleep hormones like estrogen and melatonin are produced less.
So after years of facing these exact problems ourselves, we decided the only way to solve this was to come up with our own sleep solution…
One designed with the menopausal woman in mind!
Introducing MenoSnooze: The First Ever Complete Sleep Support Supplement For Menopausal Women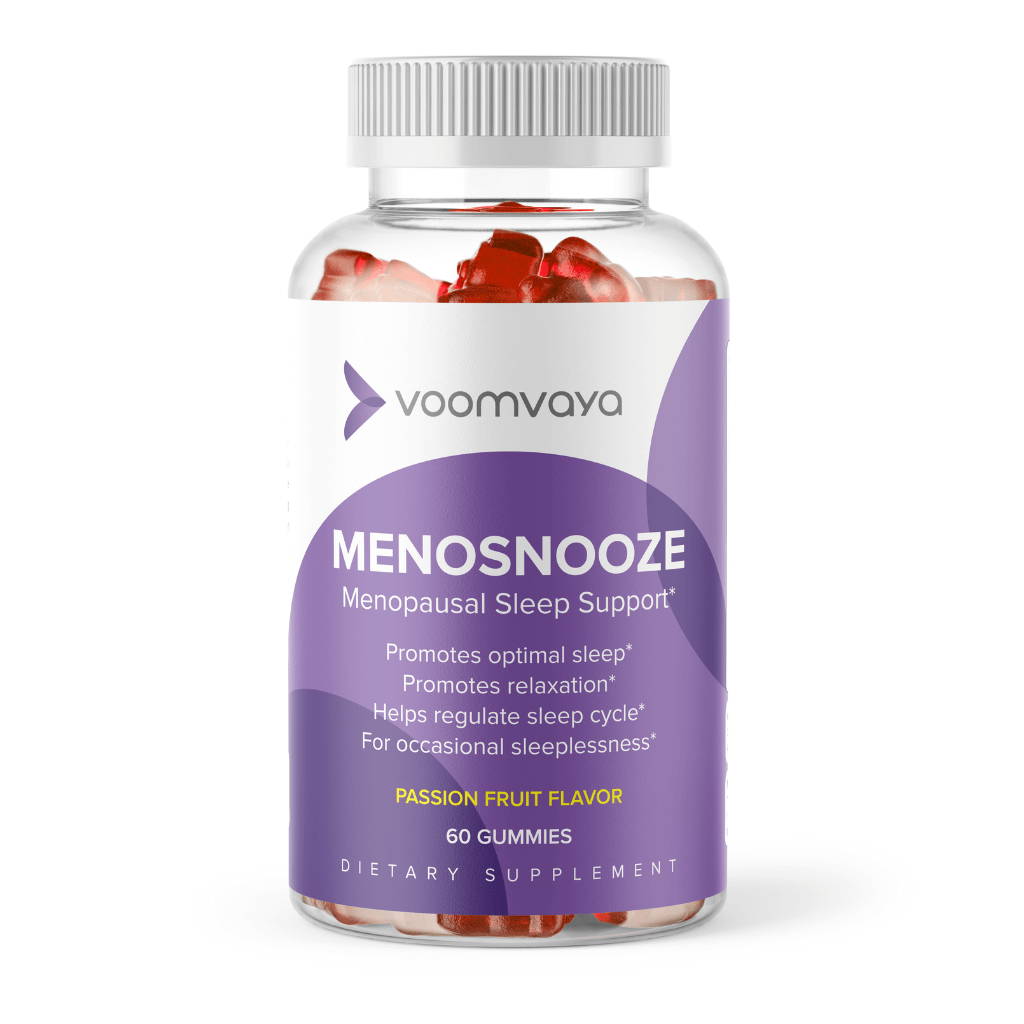 MenoSnooze is the first of its kind.
It's the most complete sleep support formula ever created.
And the only sleep solution on the market, designed specifically for menopausal women.
It all starts with our researched backed ingredients...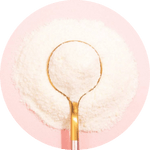 This super nutrient helps ward off insomnia and hot flashes. As an added bonus Pyridoxine HCL also improves serotonin levels, 8 which plays a key role in happiness, and helps you feel like yourself again when you wake up in the morning.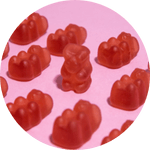 Known as "nature's sleep hormone", by helping to rebalance the lowered melatonin levels caused by menopause, MenoSnooze helps you fall asleep faster and stay asleep longer.9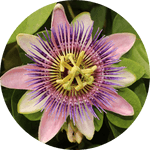 This superfood helps relieve insomnia and anxiety by boosting the levels of gamma-aminobutyric acid (GABA) which helps calm racing thoughts. By helping you relax, and easing away that tension, passionflower extract helps give your mind the quietness it needs to drift off into slumberland.
All It Takes Is 2 Delicious MenoSnooze Gummies 20 Minutes Before Bed To Be Sleeping Like A Baby Through The Night!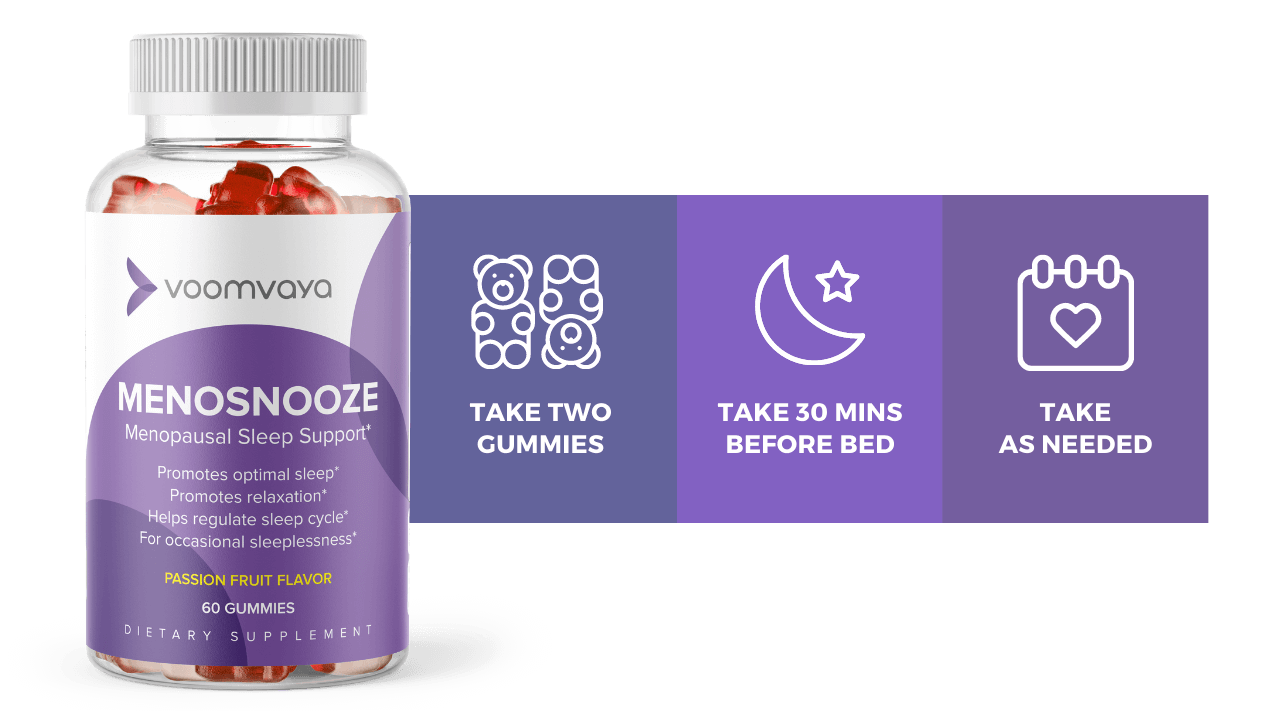 Research backed, herbal ingredients clinically shown to deliver the promised result


Pure, organic and 100% nature-powered ingredients you can actually pronounce


Manufactured in our pristine FDA registered facility in Long Island, New York


Absolutely risk free to try with our iron-clad 60 day money back guarantee


Vegan-friendly, GMO-free, dairy free and caffeine-free


Delicious, passionfruit flavor and chewy gummy texture you'll absolutely love

MenoSnooze Is 100% Non-Addictive, Non-Habit Forming And Free From The Next Day Hangover Effect

At VoomVaya, our goal is to provide safe and healthy alternatives for menopause.
So our number 1 priority for MenoSnooze was unlike other sleeping products, it must not be something you become "dependent" or "hooked" on.
And by using a vegan-friendly form of melatonin and organic ingredients, we achieved this.
VoomVaya's MenoSnooze is not habit forming…
And it is NOT addictive.
In fact, not only is MenoSnooze safe to use long term…
Most women love to do so, because it's also completely free of the next day hangover effect.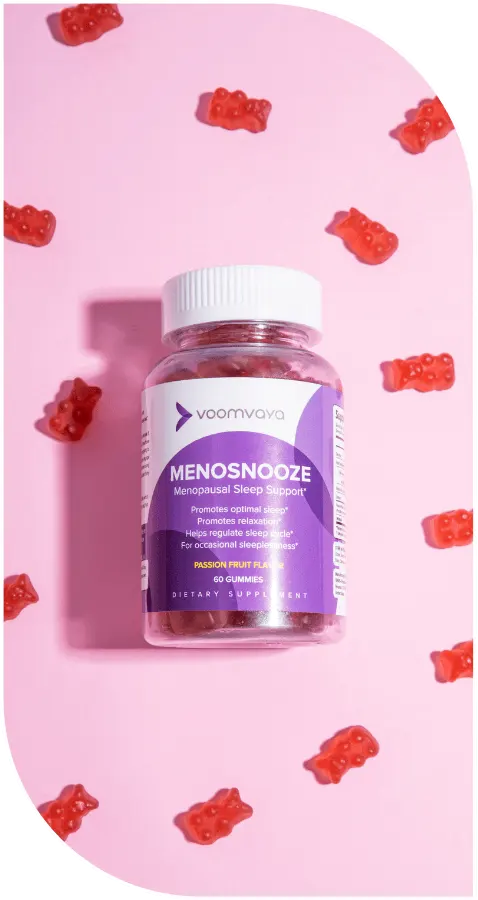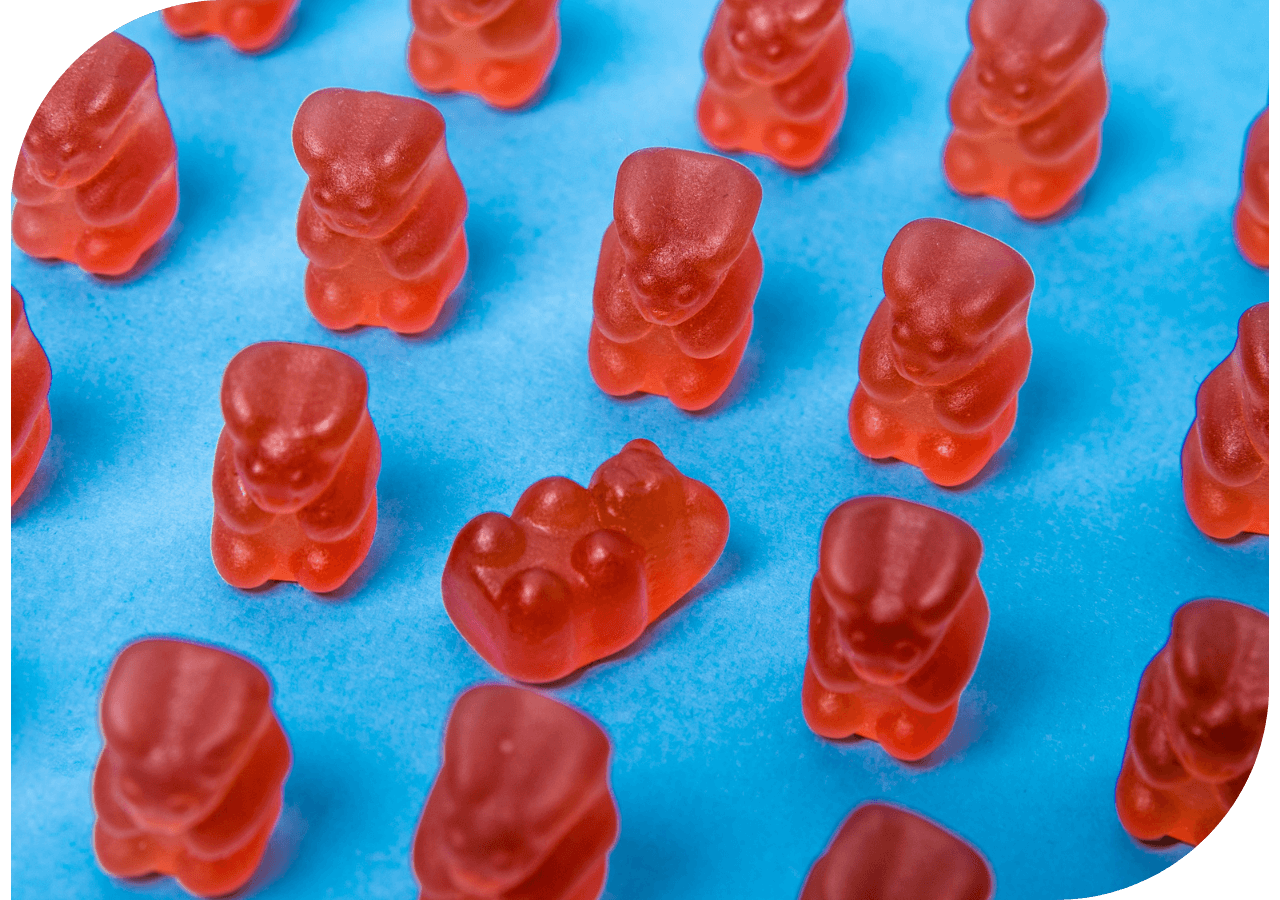 Because aren't you sick of tablets and capsules?
Aren't you sick of menopause being treated like some kind of disease that needs a cocktail of pills to "fix"?
We sure are!
So we figured if we can make something delicious, that still packs in ALL the health benefits…
That helps you drift off into a blissful slumber…
And tastes like a reward instead of a poison…
Well, making it a gummy is a no brainer then isn't it?
So Try MenoSnooze Today And If You're Not Getting The Deepest, Best Sleep Of Your Life…
We'll Refund You Every Penny!

We're so confident that you'll love MenoSnooze, that we'll give you 60 days to decide.
Try MenoSnooze for TWO WHOLE months...
And if your sleep isn't deeper and more restful...
And you aren't waking up every morning completely rejuvenated…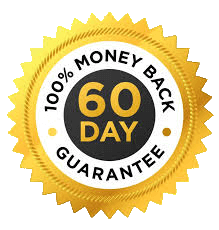 Just email us at support@voomvaya.com within 60 days of purchase and we'll refund you every penny!
You have nothing to lose... so even if you're just a little bit curious, it's literally completely risk free for you to order right now and try it out!
Women Across America Are Having The Best Sleep Of Their Lives With VoomVaya's MenoSnooze

Helped Me Calm Down At Night... Fall Asleep And Stay Asleep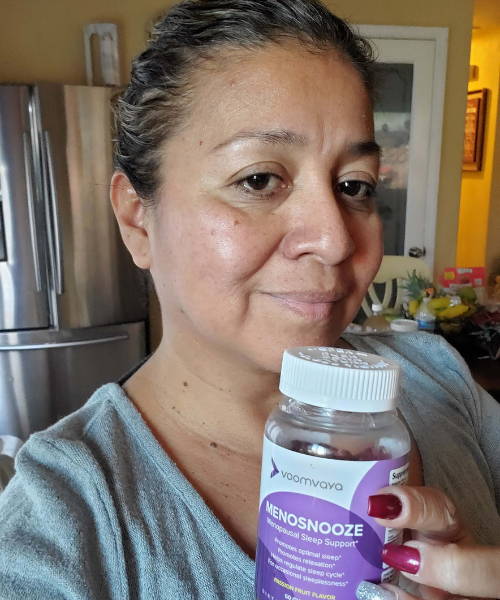 I Wake Up Feeling Better... Feeling Relaxed!

Honestly, I don't even know at what point in my life I went through menopause. All I know is I was getting all of these weird different feelings such as hot flashes, irritation, being forgetful, not being able to sleep. But that was until I found the MenoSnooze.
I've been taking them now for quite some time and, believe it or not, I take two gummies before I go to bed and I wake up just feeling refreshed, feeling better, feeling relaxed. It's just an amazing feeling so I just wanted to share how it has changed me. I usually take it about 30 minutes before I go to bed and I wake up feeling just... amazing. Even right now, after a 10-hour drive, I still feel relaxed. I don't feel sluggish or tired.
- Faviola V*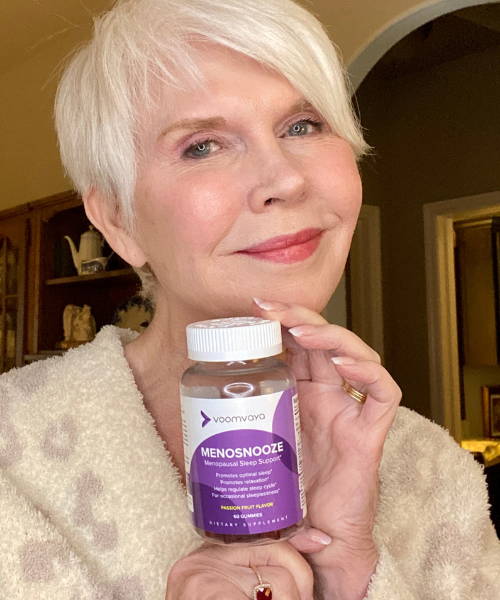 I Awaken More Refreshed, More Energized And Ready For A New Day!

Insomnia has been my biggest struggle throughout my menopause journey and I'm always looking for a healthy, helpful solution. Recently, I was introduced to MenoSnooze. The best news of all might be that it comes in the form of this fruit-flavored gummy. One or two of these before bedtime and I awaken more refreshed, more energized, more ready for a new day! Rediscover sweet dreams!
- Rebecca S*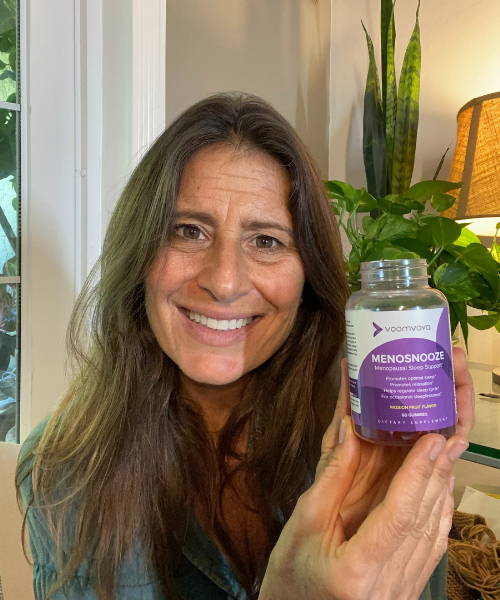 I Was Having Restful Sleep And I Would Wake Up Eager For The Day!

I was having so much trouble sleeping. I did my research and started to get advertisements in my Facebook feed for MenoSnooze. And I decided to give it a try. I was having restful sleep and I would wake up eager for the day. I didn't have to convince myself to get up, I just got up.
- Florencia B*
I Feel So Good, So Much Less Stressed Out And Less Anxiety Because I'm Getting That Sleep

Tastes really good. It's a week later and I feel so good, so much less streesed out, less anxiety because I'm getting that sleep. The gummies are still working even after a week of taking them. I recommend this to any woman who is menopausal, who's having problem sleeping, or having problem staying asleep because they work. I don't feel drowsy. I feel like I have a lot more energy, I can think straight. I can't believe I slept through the whole night, and I feel like I am not even that to have my morning coffee. That's amazing. That hasn't happened to me in a long time. I love these gummies!

- Jill S*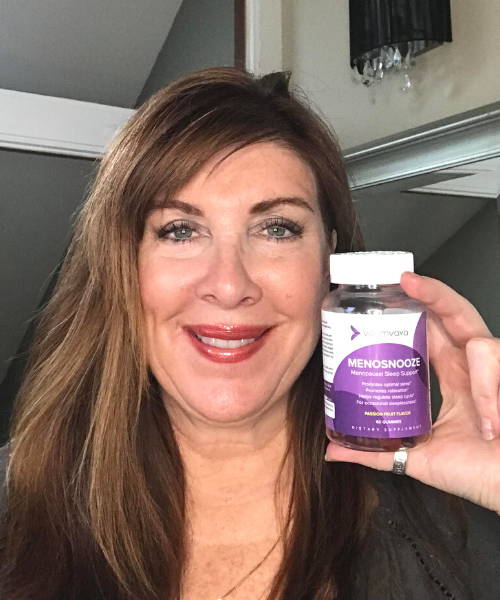 I Am Sleeping So Peaceful... And I Don't Wake Up All Groggy!

Just got this in the mail a few days ago. I've taken them the last couple of nights and I gotta tell you. Amazing. I am sleeping so peaceful, and you know what's really great? You don't wake up all groggy. You don't wake up feeling foggy in your head, you don't feel that with this. It's amazing!
- Susan E*
So If You're Ready To Rest Your Weary Soul Tonight And Slip Into The Most Blissful Slumber You've Had In Years….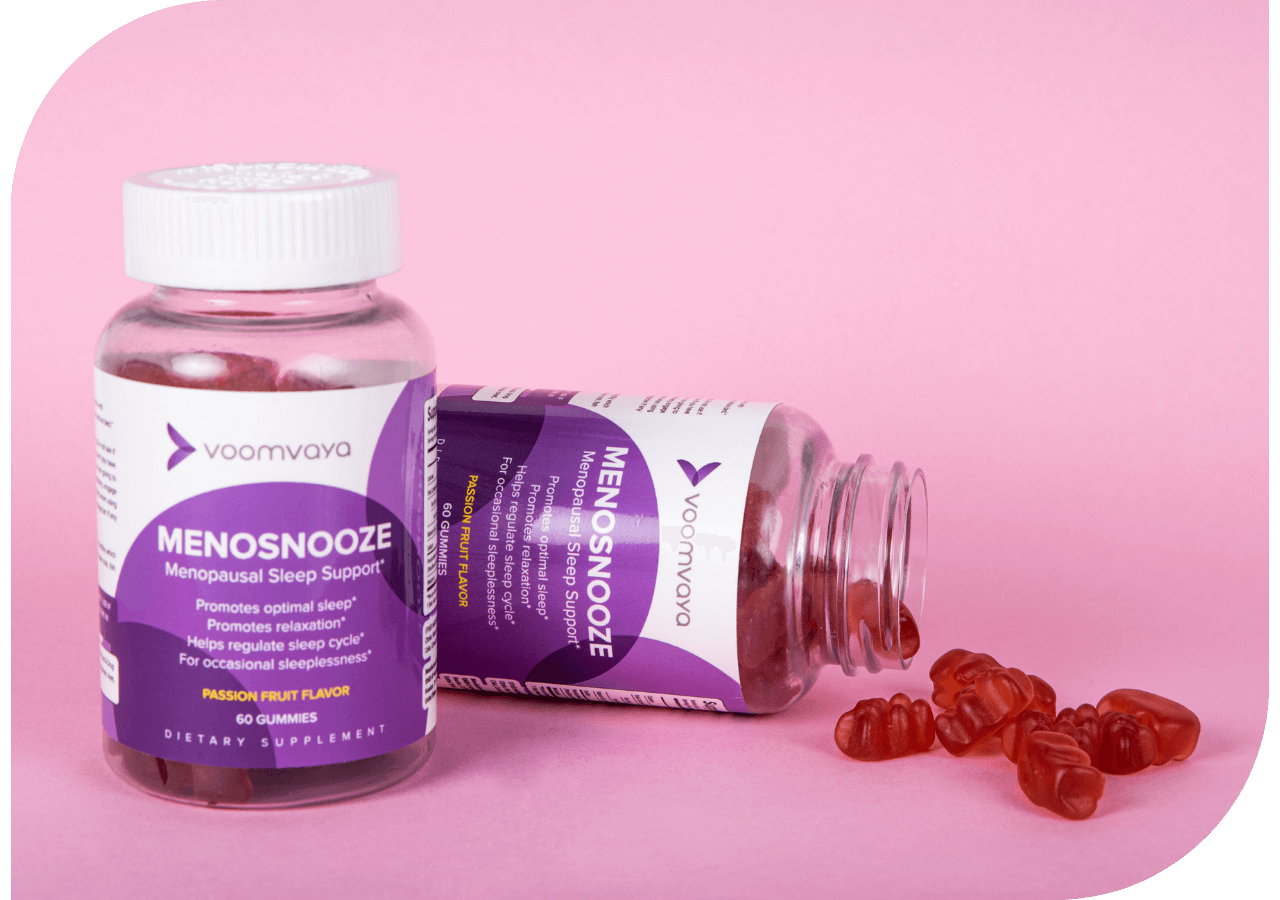 Frequently Asked Questions
MenoSnooze is a delicious, chewy gummy containing scientifically studied ingredients that help women to fall asleep faster and stay asleep long.
By helping to increase your melatonin levels, MenoSnooze helps to balance the reduced melatonin production during menopause, helping to restore your body's natural sleep-wake cycle.
What are the benefits of MenoSnooze?
Fall asleep faster and stay asleep longer

Improve sleep quality at night

Wake up the next morning feeling refreshed

Helps restore your body's natural sleep-wake cycle

Helps reduce anxiety and calm the racing mind

Is non-addictive and non-habit forming

Has no carry over "hangover" effect the next morning
What type of melatonin do you use?
We use a plant-based melatonin formula, not animal, making it vegan-friendly.
Simply eat 2 gummies about 20-30 minutes before bed.
How long will it take before I see some benefits?
MenoSnooze is quick-acting and you will start to feel the effects within 20-30 minutes of consuming 2 gummies.
Does MenoSnooze taste good?
Absolutely! It's delicious and literally tastes like a gummy bear!
It's so good, most women treat MenoSnooze as their late-night dessert before bed!
Will I experience any side effects?

MenoSnooze is designed to gently ease you into a deep restful slumber, meaning it will cause sleepiness.
So after eating MenoSnooze gummies, do not drive a motor vehicle or operate machinery.
Some sensitive women may experience a slight headache, nausea, or more vivid dreams but these cases are rare.
Can I take this if I'm on other medication?
Generally speaking, MenoSnooze has few medication interactions, however if you are currently taking other medication, have any complicated medical conditions, or are concerned about safety in your specific circumstances, we recommend you speak to your doctor before starting.
Can I use MenoSnooze long term?
Yes, MenoSnooze is safe long term and many women report great results using it long term.
However if you are currently taking other medication, have any complicated medical conditions, or are concerned about safety in your specific circumstances, we recommend you speak to your doctor before starting.
Is MenoSnooze gluten-free?
Unfortunately not. Because of the way the gummies are made, they do contain gluten. If you are after a gluten-free menopausal sleep solution, we recommend VoomVaya's Rejuvenating Sleep Tea, for a delicious gluten-free, GMO-free, dairy free, and caffeine-free alternative.
Do you offer a money back guarantee?

Yes of course. Like with everything you purchase on VoomVaya, you are always protected by a 60-Day Money Back Guarantee. If MenoSnooze does not help you as promised, simply send an email to support@voomvaya.com and we'll issue a complete refund.
At this stage, we only ship to addresses within the USA and Canada.
TRY US RISK FREE WITH A 100% MONEY BACK GUARANTEE