MENOSLIM & TEATOX BOOSTER INSTRUCTIONS
Here are some instructions to help you get the most out of your MenoSlim Tea & TeaTox Booster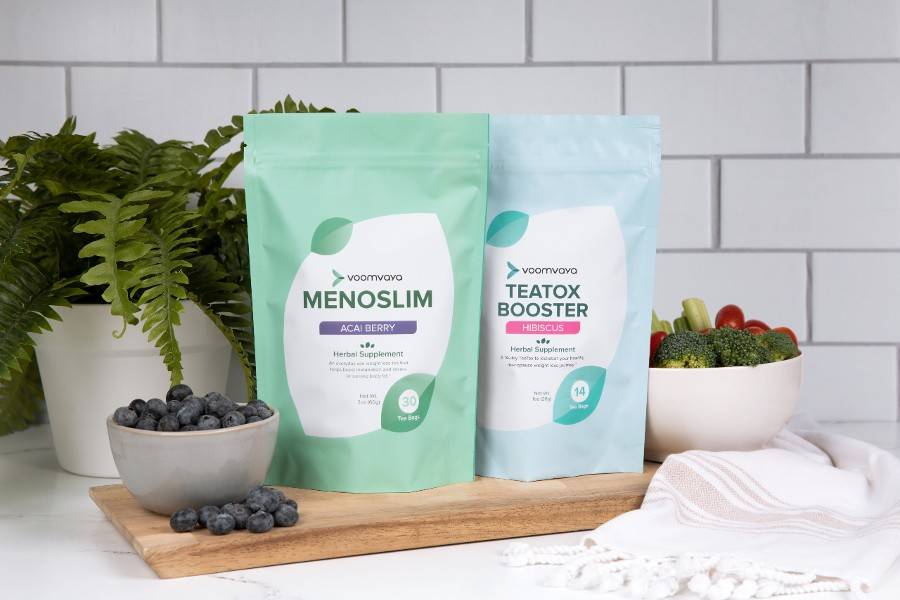 1. KICKSTART WITH THE 14-DAY TEATOX BOOSTER
Drink 1 cup of TeaTox Booster every morning for the next 14 days...


We recommend steeping the tea for 5-7 minutes

This will help your body absorb less fat, flush out toxins, and feel fresher, lighter and better than you have in months.

Brew 1 tea bag for 5-7 minutes

Drink daily, preferably in the morning

Feel fresher, lighter, & more energized
WARNING: You may find yourself going to the toilet more often on the TeaTox Booster but this is normal, as it cleanses your body of fat and toxins. If you feel like it's upsetting your tummy, we recommend steeping the tea bag in water for less time: 2-3 minutes instead of 5-7 minutes.
Also, it is very important to stay HYDRATED. During the first 14 days when you're drinking the TeaTox Booster, you're getting rid of all the nasty toxins from your body which will require constant hydration. So please make sure to drink MORE WATER.
After finishing the TeaTox Booster for 14 days, your body is now ready for MenoSlim Tea.
2. MAINTAIN RESULTS WITH MENOSLIM TEA
MenoSlim Tea contains a mix of scientifically proven ingredients which will both promote your body's natural fat burning ability, and bring hormonal balance back into your life.


Drink 1 cup of MenoSlim every day.
The longer you use MenoSlim…
The more weight you will burn…
And the easier it becomes to maintain your results.

Brew 1 tea bag for 5-7 minutes

Drink daily, preferably in the morning

Feel fresher, lighter, & more energized
FREQUENTLY ASKED QUESTIONS
MenoSlim Tea is a delicious, natural herbal tea containing scientifically studied ingredients that help women to burn body fat, and support adrenal gland health.
This tea blend was specially formulated to help women with erratic hormone levels achieve hormonal balance.
What are the benefits of MenoSlim Tea?
Helps promote metabolism and burning of fat

Helps reduce bloating

Assists hormonal balance

Helps reduce hot flashes and night sweats

Helps improve energy and supports memory

Helps reduce brain fog

Helps to stabilize your mood
Why is the packaging different?
VoomVaya is more than just a name, it's a mindset…
We want to help you feel great about yourself again – mind, body AND soul!
So we felt we needed to update our packaging to reflect the energy, vibrancy and zest for life!

Each pouch still contains 30 convenient, ready-to-use tea bags. It's enough tea for 30 days. And as a plus, every tea bag is environmentally friendly, plastic-free and allergen-free.


How often do I need to take the TeaTox?
For your first time taking MenoSlim Tea, start with the 14-Day TeaTox, then as soon as you finish that, transition over to the MenoSlim Tea.
After the first time, you can use it again after 3-4 months, or whenever your body feels like it needs another detox.
We recommend no more than 1 TeaTox every 3 months.
How long will it take before I see some benefits?
Some people feel (and see) health benefits within days, but generally speaking, most women see the biggest difference after the 14-Day TeaTox, while using the MenoSlim Tea as a long term fat burning effects are seen. We recommend trying the MenoSlim tea for at least 2 months after usinhg the Teatox.
Yes! No matter how good for you the ingredients are, we know that if you're drinking a tea it must taste good.
Which is why with all our teas, we added a delicious natural fruity flavoring to it, giving you the most intoxicating and delicious fruity tea you've ever had. You can also add fruit, honey, or other flavoring for a delicious twist.
Will I experience any side effects?
Every care has been taken to ensure the safest possible product and whilst the vast majority of women do not report many issues, every woman is different and it may be possible to experience some side effects.
For both MenoSlim Tea and TeaTox, the most common side effects are mild stomach aches, headaches, nausea and mild diarrhea. If this happens to you, we recommend brewing your tea bag for just 1-2 minutes (instead of the full 5-7 minutes) and gradually increasing as your body adjusts.
If you experience any other side effects or have any other concerns, we recommend speaking to your doctor before starting either tea.
Can I take this if I'm on other medication?
Both the 14-Day TeaTox and MenoSlim Tea are organic and natural, and gentle on the body.
But because of how powerful some of these ingredients are, if you have estrogen dominance or a family history of cancer, we recommend you speak to your own doctor about before starting.
If you have any complicated medical conditions, or are concerned about safety in your specific circumstances, we also recommend you speak to your doctor before starting.
Who should not use TeaTox or MenoSlim Tea?
Both MenoSlim Tea and TeaTox Booster should only be used by women going through menopause. Therefore, we do not recommend consumption by men, children, pregnant or breastfeeding women.
If you are taking any prescription drugs, have a medical condition, or if you have been treated for breast cancer or any other hormone dependent cancer, we recommend you speak to your doctor before trying either MenoSlim Tea or TeaTox Booster.
NOTICE: This product contains Senna Leaf. Read and follow instructions carefully. Do not use if you have or develop diarrhea, loose stools, or abdominal pain because Senna Leaf may worsen these conditions and be harmful to your health. Consult your physician if you have diarrhea or if you are pregnant, nursing, taking medication, or have a medical condition.
Does this product contain nuts?
While we ensure that careful manufacturing practices are followed at all times, this product is manufactured and processed in a facility which may also process peanuts and tree nuts.
Can I drink these teas long term?
MenoSlim Tea was designed to be taken long term. In fact, the longer you drink MenoSlim, the better the results can be, since you are supporting your body's natural ability to reduce fat
As for the 14-Day TeaTox, we recommend no more than 1 TeaTox every 3 months.
I don't like hot tea, how else can I drink this?
That's the great thing about MenoSlim Tea! It's specially formulated to be extremely flexible.
If you don't like hot tea, drink it as a refreshing cold tea. Or chop up some of your favorite fruits, and turn it into a healthy fruit mocktail!
At this stage, we only ship to addresses within the USA.
Do you offer a money back guarantee?
Yes of course. Like with everything you purchase on VoomVaya, you are always protected by a 60-Day Money Back Guarantee.
If MenoSlim Tea does not help you as much as you'd like, simply send the unfinished product back to us, and we'll issue a complete refund.
I'm still not sure... What should I do?
Then give us a try, because after all, you're completely covered by our 60 Day Money Back Guarantee.
Meaning you can try it for the next 60 days and if it doesn't meet your expectations, simply send the rest back and get a full refund. Which means there's absolutely no financial risk in trying!