Hit The "Reset' Button On Your Metabolism With VoomVaya's 14-Day TeaTox…

And Give Your Body The Fresh, Clean Slate It Needs To Reignite Your Metabolism, Rebalance Your Hormones & Restore Your WOW!
SPECIAL OFFER
Subscribe and Save 20%
DOUBLE YOUR ORDER: TeaTox Booster
Never have to think about reordering

Free US Shipping

Cancel at anytime
$00.00 $00.00
I Lost 21 Pounds All Because Of This MenoSlim Tea!
"After drinking the TeaTox, I started to feel lighter, better and I already lost 2 pounds.
Then I started drinking MenoSlim and lost 19 more pounds! My body has shape again! Super love the taste. Highly recommend!"*
I Lost 7 Pounds And My Clothes Are Fitting Again Since I Started Menopause!
I noticed that the pounds were catching up to me as I was struggling with menopause and I had gained extra pounds and was now the heaviest I had been since pregnant 21 years ago!
I knew I had to make a change to do it quickly! I have one cup every morning. I noticed when I drink the tea I'm not as hungry for lunch right away and I have lost 7 pounds! My clothes are fitting again since I started menopause!"*
Bloating Has Reduced And I Feel Happy Again
I'm feeling upbeat, my night sweats and hot flashes are gone. I sleep well through the night. This has definitely helped me with my menopausal symptoms. I've lost 2 pounds so far and this has reduced bloating.
What is VoomVaya's TeaTox?
VoomVaya's TeaTox is a 14 day detox program designed to give menopausal women a deep, gentle clean from the inside out.
This deep clean RESETS your metabolism…
RESETS your hormone levels…
And gets rid of that bloated, sluggish and blaaaah feeling.
By drinking 1 cup of TeaTox every morning for the first 14 days, these herbs:
Help reduce the absorption of fat into the body

Help flush out toxins within the body

And give your body the clean, fresh slate it needs to begin losing weight
After this 14 day TeaTox women report feeling fresher, lighter and better than they have in months…
Perfectly priming their bodies for the best possible results from other VoomVaya menopausal products.
Why Is VoomVaya's TeaTox So Effective?

Because it's packed with ingredients designed to do the heavy lifting!
Every teabag contains the following herbs, expertly proportioned by our tea sommeliers:
Known as the "cleansing herb," senna leaf is a natural gentle laxative 11 that promotes digestion and flushes out waste and toxins from the body. 12 It is the star ingredient and will cleanse your body for the next 14 days, leaving you feeling fresher and lighter than you have in years.
Dandelion Leaf helps reduce bloating and decreases water weight, helping to give you more rapid results after your very first cup. 13 It can also help promote the breakdown of fat and cholesterol 14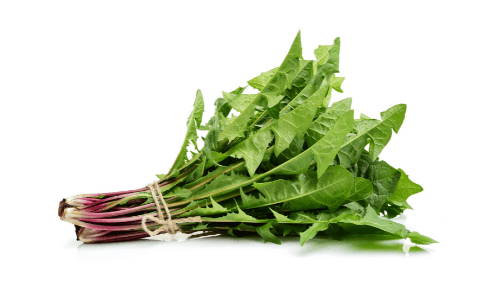 Cardamom is a "thermogenic" ingredient - meaning it speeds up your metabolism so you naturally burn more fat in your body. 15 By adding Cardamom into the TeaTox, it helps to reignite your metabolism and kickstarting your menopausal weight loss journey. 16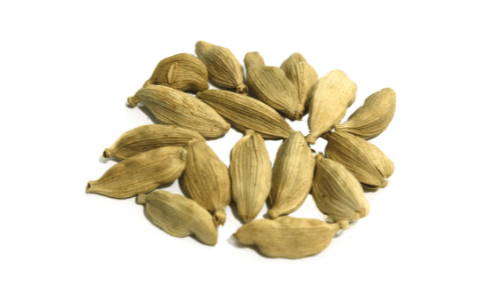 Matcha, or Green Tea, works as a fat blocker! It helps stop the body storing fat 17 as well as helps burn more fat during the day. 18 And best of all, it'll also help increase energy levels and improve concentration. 19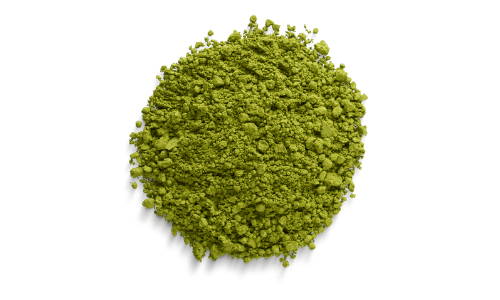 Pu'Er is a fascinating black tea that helps increase metabolism, 20 help reduce body weight and burn body fat. 21 On top of this, like Matcha, Pu'er will also help increase energy levels and improve concentration.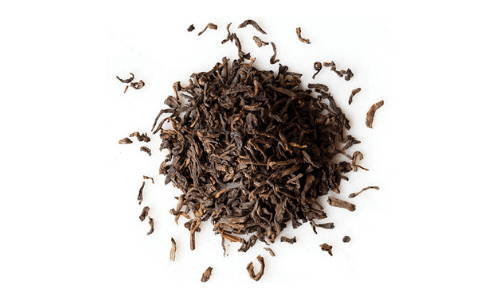 Ginkgo is great for helping improve memory, concentration, mental clarity... 22,23 basically everything we call "brain fog". 24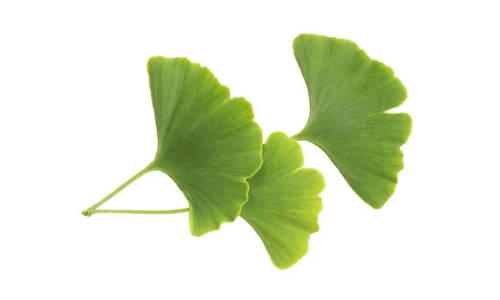 Eleuthero Root contains phytoestrogens that act similar to the estrogen in our body 25 and helps reduce menopause symptoms. 26 It is one of the key ingredients in helping to rebalance hormone levels. 27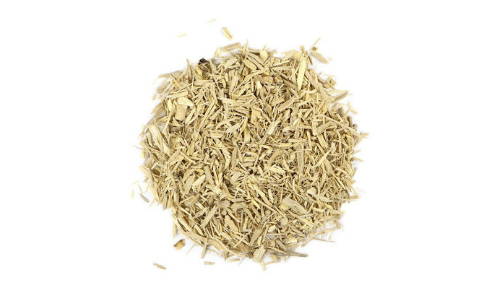 Black Cohosh is a natural herb that helps reduce hot flashes, 28 as well as sudden mood swings and depression. 29 Like Eleuthero Root, by supplying phytoestrogens Black Cohosh helps rebalance hormone levels.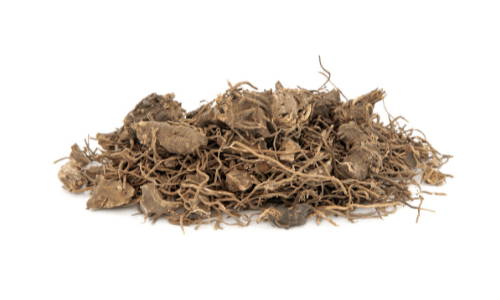 For taste! All good teas must taste good, so the delicious, flowery Hibiscus flavor balances the cup with an intoxicating aroma and taste.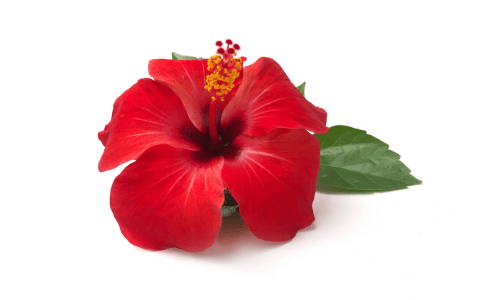 Reset Your Metabolism, Rebalance Your Hormones & Restore Your WOW! Today With 1 Cup Each Morning For The Next 14 Days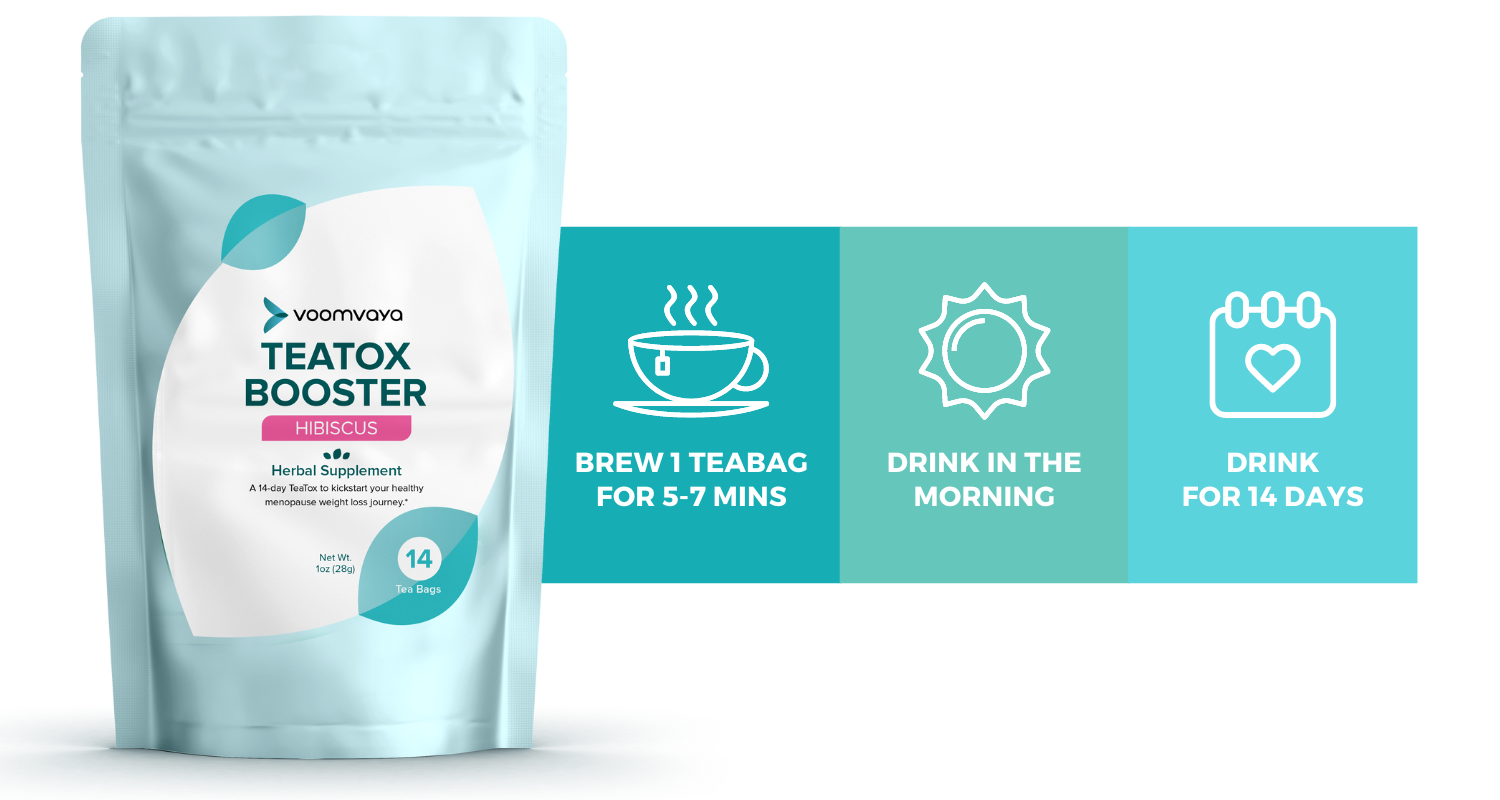 Research backed, herbal ingredients clinically shown to deliver the promised result


Pure, organic and 100% nature-powered ingredients you can actually pronounce


Hand-packed by tea sommeliers in a pristine FDA registered facility in Arizona


Absolutely risk free to try with our iron-clad 60 day money back guarantee


GMO-free, gluten-free, and dairy free


Delicious, flowery flavor you'll love waking up to every morning

But If You Want To Get The Best Possible Results…
Kickstart With TeaTox, Then Maintain With MenoSlim tea

TeaTox is just Step 1 of a recommended 2-step menopausal weight loss program.
TeaTox will give you an amazing 14-day kickstart…
And after the TeaTox, most women ACCELERATE and MAINTAIN their weight loss goals by using MenoSlim for the next 3 months.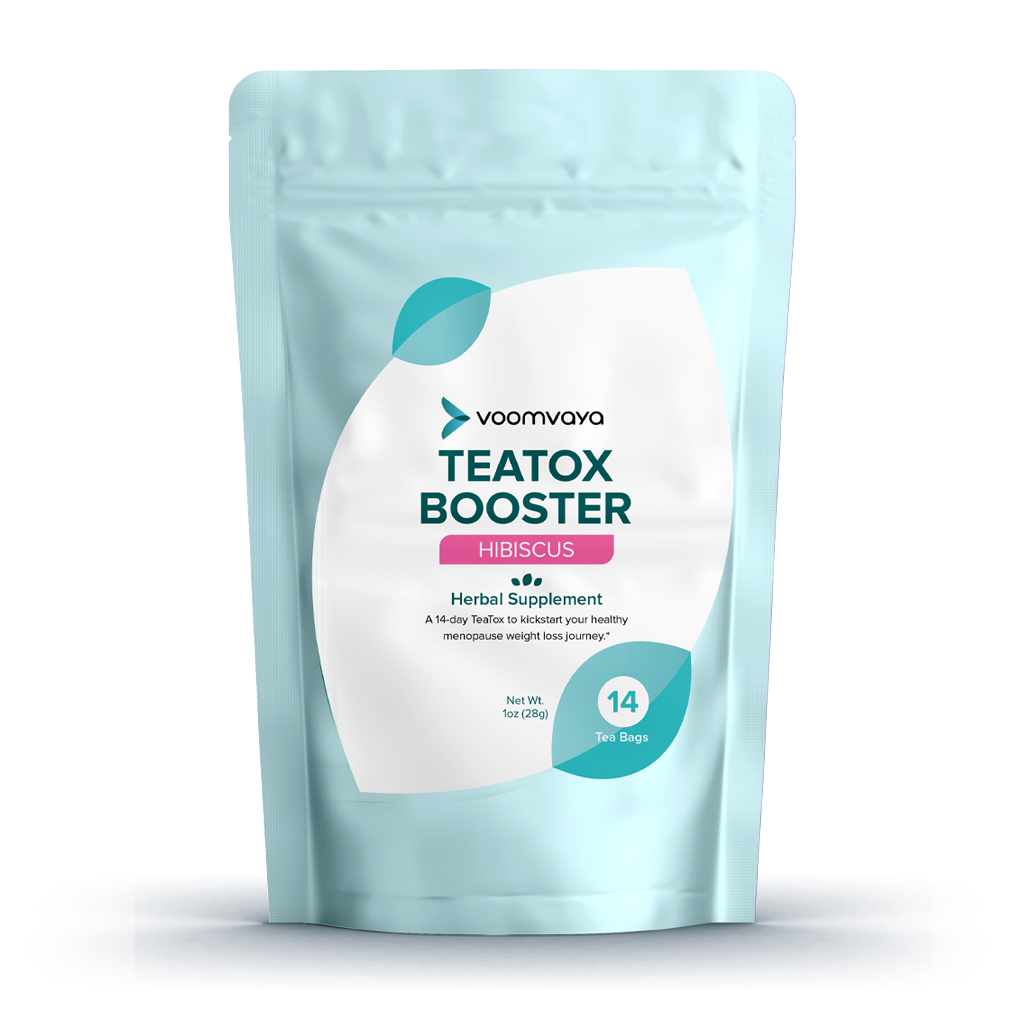 Kick start with the 14-Day TeaTox
Brew 1 TeaTox teabag in a cup of hot water for 5 minutes. Then drink every morning for the next 14 days.

And after you finish the 14-Day TeaTox...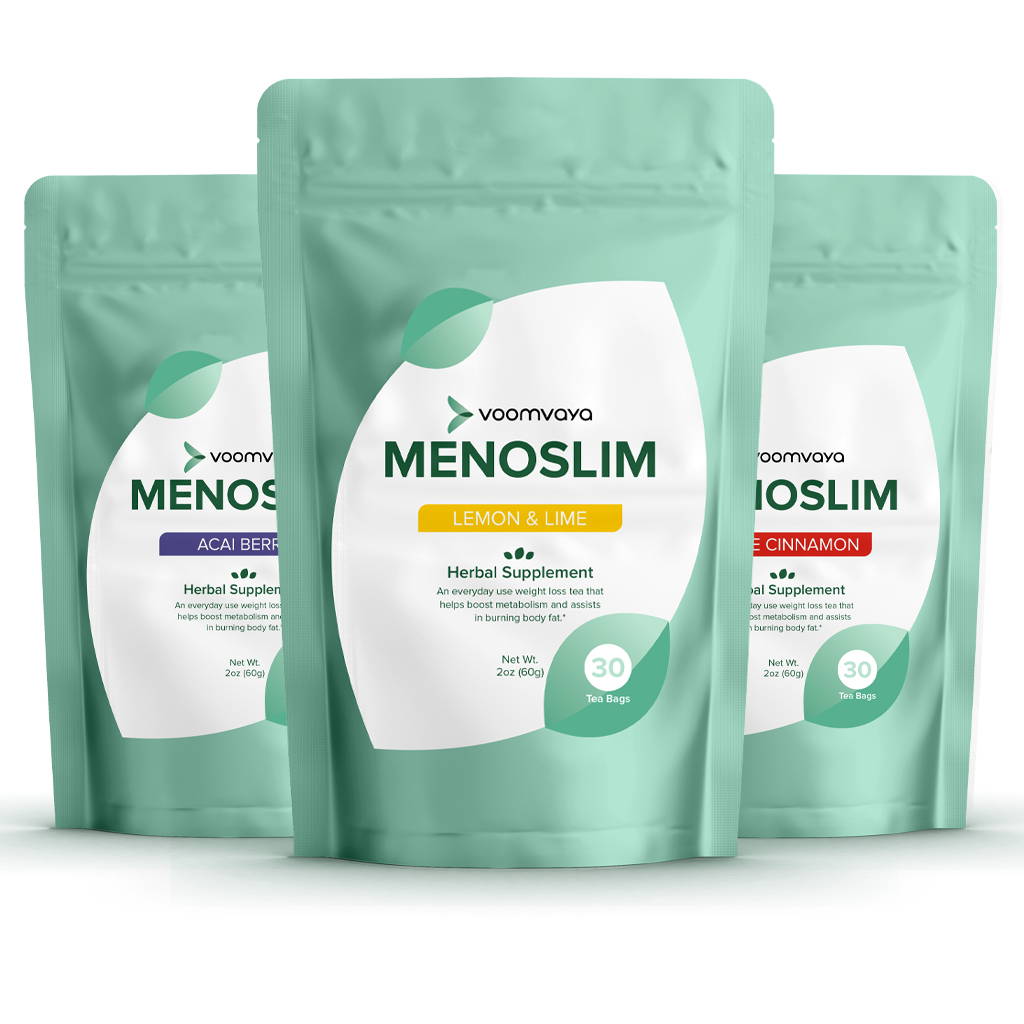 Maintain results with MenoSlim Tea

Brew 1 MenoSlim teabag in a cup of hot water for 5 minutes.

Then drink every morning for as long as you want to remain at your target weight.
So don't forget to add MenoSlim tea to your order today!
Complete With A 60 Day 100% Money Back Guarantee!

That's right! 60 DAYS!
Even though VoomVaya's TeaTox is only a 14 day program… we're giving you a FULL 60 DAY refund period!
That's how confident we are that you're going to love your TeaTox experience.
So what we're saying is…
Order your TeaTox today, try it for the next 14 days, think about it for a FULL SIX WEEKS after that…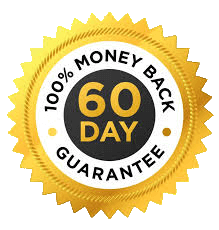 And if at any point you're still not 100% THRILLED with your results…
Simply contact us and get a complete 100% refund, no questions asked.
How completely risk-free is that?
Same Great Product, Brand New Packaging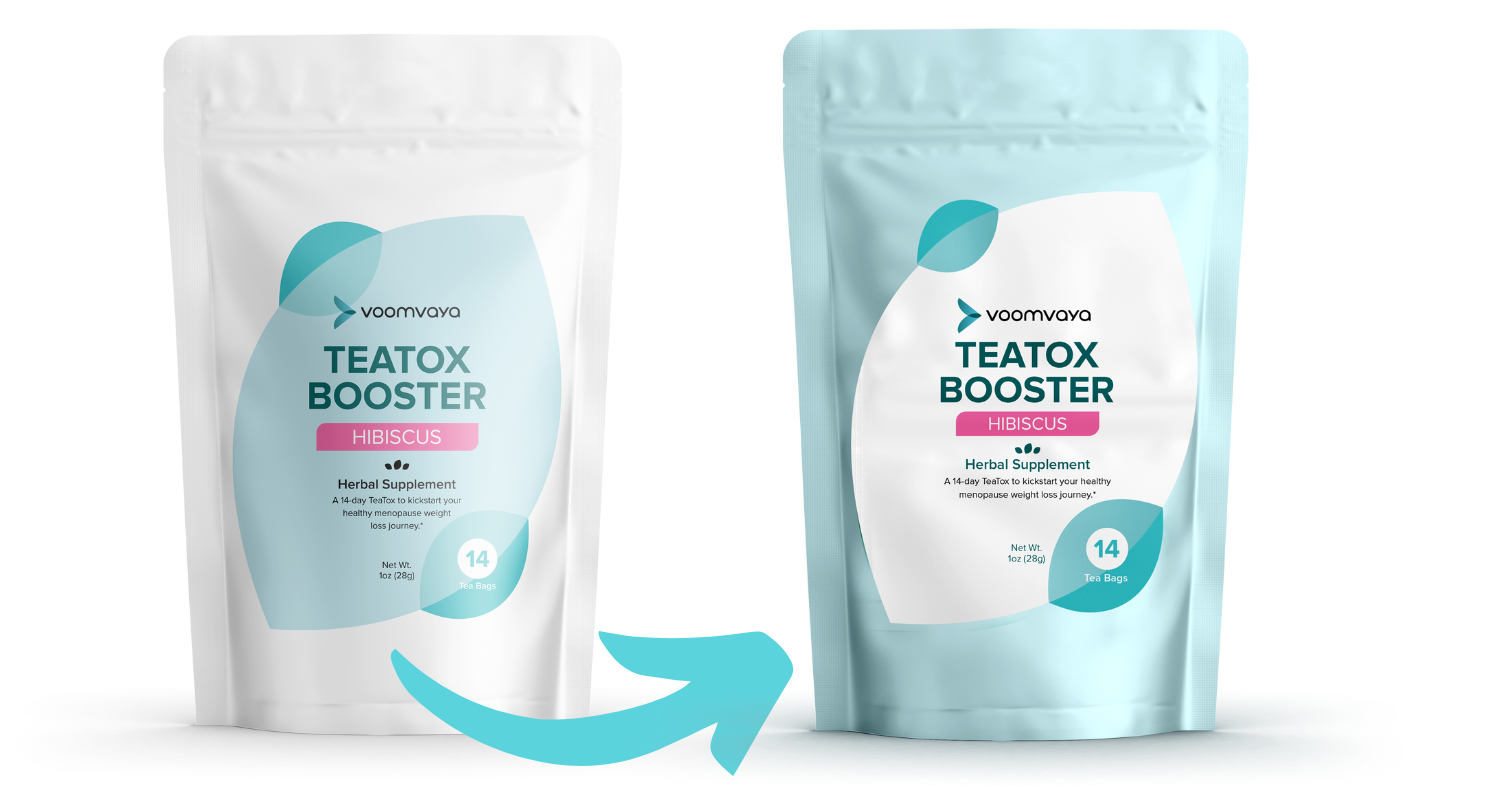 It's Easy To See Why So Many Women LOVE Kickstarting Their Goals With VoomVaya's 14-Day TeaTox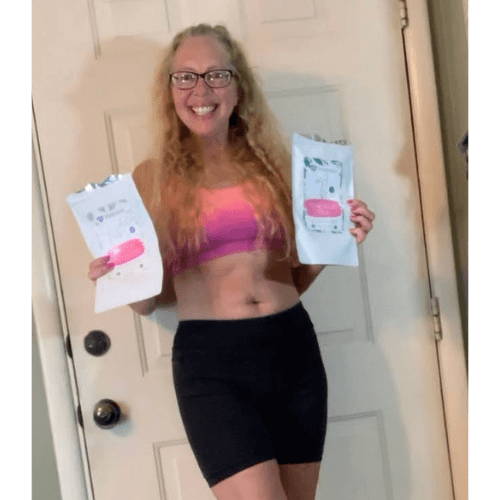 I Feel Like I'm In My 20's Again!

"Within days of starting the TeaTox, I began to notice that I felt happier and more energetic. As I continued, the bloating stopped. Once I finished the detox and began drinking the MenoSlim Tea, DRASTIC changes happened"
The night sweats stopped. My mood swings were a thing of the past. I saw my mid-section transform from flabby to fabulous!
My skin has regained its elasticity and my complexion has gone from dull and blotchy to smooth and vibrant! I feel like I'm in my 20's again ---just because I drink a cup of all-natural, great-tasting tea every day! I feel better than I have in years! I've regained my confidence, energy, and I feel like myself again. Did I mention it's great-tasting and natural?"

- Amy*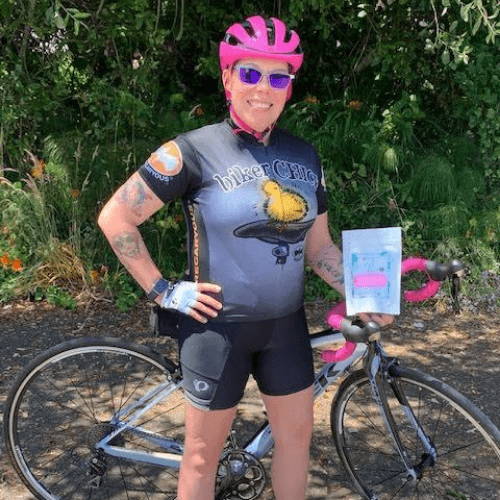 To Say I'm Thrilled With Menoslim Tea Is An Understatement!

"To say I'm thrilled with Menoslim tea is an understatement! I am now on day 15 of the Menoslim tea and have lost 3 pounds already. This is huge for me! 3 pounds in 2 weeks. That would have taken a month or more previously! My hot flashes have been decreased to less than one, mild flash daily, and I am sleeping better. I use the Menoslim tea as the liquid base to my morning shake. It's easy and delicious! I am so thankful for these products!"

- Wendy*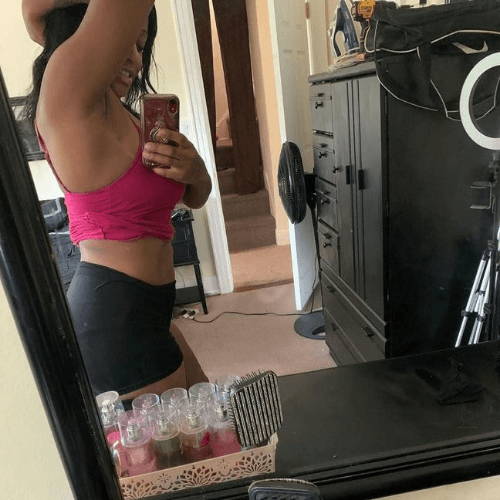 I Am Amazed How Flat My Tummy Has Gotten In Days

"I have been taking this for 14 days and I am amazed of how amazing the results are. This tea definitely helps with the bloating and I am amazed how flat my tummy has gotten in days🙏😍😍😍😋 I feel way more alive than I have in the last two weeks before using this product... I actually wake up every morning looking forward to each sip of this wonderful delicious tea. The smell is so amazing but taste is to die for👌😝🥰"

- Monica*
I Lost 10 Pounds! This Really Helps Boost My Self Esteem

"It helped me a lot by first cleaning my system and stopping the bloating around my stomach area. Both teas taste great and I only used honey. I lost ten pounds! This really helps boost my self-esteem and... overall I feel better. I am happy I found a tea that actually works and is natural."
- Edwana R.*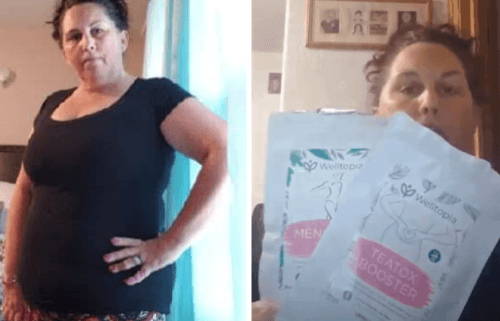 For Menopausal Weight Gain, This Worked!

"For menopausal weight gain, this worked! The taste was great. The best bonus for me? I also wasn't jacked up all day. The teatox did not hit in the middle of the night, nor was it harsh on my system. My weight loss was altogether 11 lbs. Weight loss is hard for me. I am so thankful for the tea that I love and it works."
- Kimberley*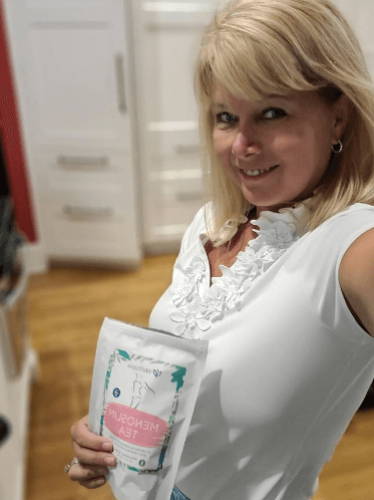 "My bloating is completely gone. My hot flashes have disappeared and I feel more grounded. At this point I have lost 9 pounds and I hope to drop 5 more. It has been a great month and I hope to continue to drop weight and feel better. Looking at the pictures is just jaw dropping for me. How could I change so much in 30 days. This has inspired me and I plan to take pictures throughout my journey to document the drastic changes."

- Natalie*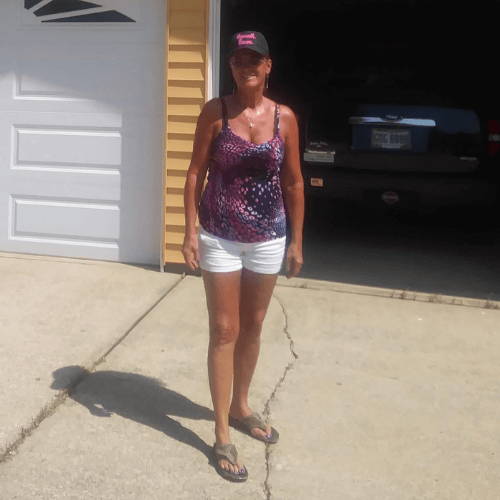 After My 14 Day TeaTox I Lost 10 Pounds!

Before menoslim I had such a pouch in my belly. 6 months ago I gained 10lbs because of pandemic. Nov 16, after my 14 day teatox I lost that 10 lbs. I was shocked how fast it came off. I weighed 130, now my new weight is 120. My husband is amazed!!!
- Jeanette*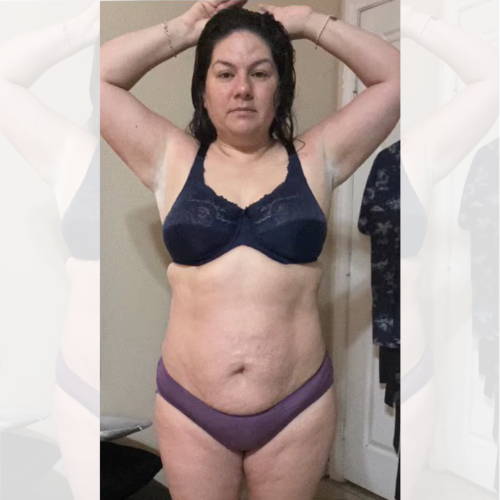 My Pants Fit Better, My Face Is Not As Puffy As It Was

"My pants fit better, my face is not as puffy as it was. I am perimenopausal and these helped me so much! One positive thing is I didn't have a hot flash... and no side effects. If you want to lose weight... Take it, you're gonna see the biggest difference."
- Christina*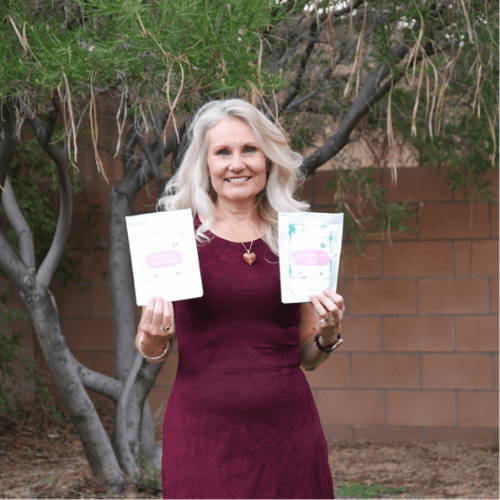 Bloating Has Reduced & I Feel Happy Again

"I'm feeling upbeat, my night sweats and hot flashes are gone. I sleep well through the night. This has definitely helped me with my menopausal symptoms. I've lost 2 pounds so far and this has reduced bloating."*

- Shelley*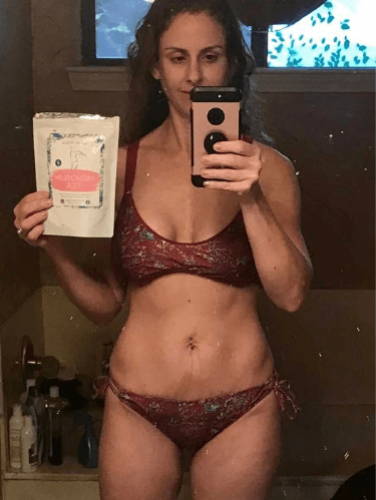 See The Difference It Made

"When I started drinking the Menoslim Tea, I noticed right away how it curbed my appetite. Then, I started to notice how my temperature was more normal. I wasn't going from being extremely cold to extremely hot all the time. It wasn't until my husband said you seem happier lately that I realized my moods were not all over the place. I also lost weight, not just a little weight either. I am continuing to lose weight too. My before picture was me at 147lbs. In my after photo I weigh 133. I had only taken the tea for a few weeks at that time. You can see the difference it made."
- Jacqueline*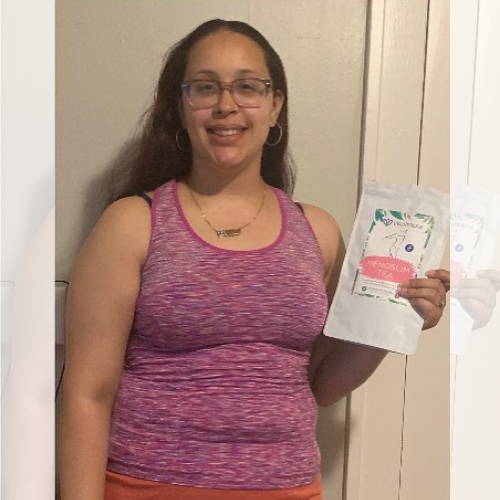 I had crazy mood swings (beyond what you may believe) and I started drinking the MenoSlim detox/weight loss tea. It works! My muffin top in the photo shows it no doubt about it.
- Mila*
So Go Ahead, Give Your Body The "Reset" It Needs And Order Your TeaTox Today!

Frequently Asked Questions
The 14-Day TeaTox is designed to kick start your weight loss journey, by flushing out toxins, reducing bloating and giving your body a fresh start.
By promoting metabolism and gentling stimulating digestion, you will find yourself going to the toilet a bit more frequently during this time as you give your body a cleanse.
Why is the packaging different?
VoomVaya is more than just a name, it's a mindset…
We want to help you feel great about yourself again – mind, body AND soul!
So we felt we needed to update our packaging to reflect the energy, vibrancy and zest for life!
Each TeaTox Booster pouch still contains 14 tea bags for a 14-day cleanse, ready-to-use tea bags. And as a plus, every tea bag is environmentally friendly, plastic-free and allergen-free.
How often do I need to take TeaTox Booster
For your first time taking MenoSlim Tea, first start with the 14-Day TeaTox, then as soon as you finish that, transition over to the MenoSlim tea.
After the first time, you can use it again after 3-4 months, or whenever your body feels like it needs another detox.
We recommend no more than 1 TeaTox every 3 months.
Can I drink this tea as an iced tea instead of hot?
Yes, you absolutely can drink the tea cold, as an iced tea.
Some of our customers have added their favorite flavors or fruit to the tea, or even consumed it as non-alcoholic mocktails.
These may be creative options for you if you don't normally enjoy hot teas.
How long will it take before I see some benefits?
Some people feel and see results almost instantly, but generally speaking, most women see the biggest difference after the 14-Day TeaTox, while using the MenoSlim tea as a long term fat burning solution.
Can I drink this tea if I have a medical condition?
The 14-Day TeaTox tea is organic and all natural making it safe to drink with almost all medications.
But because of how effective some of these ingredients are, if you have estrogen dominance or a family history of cancer, we recommend you speak to your own doctor about before starting.
If you have any complicated medical conditions, we also recommend you speak to your doctor before starting.
Will I experience any side effects?
The 14-Day TeaTox is all-natural - meaning there are no chemicals, drugs, or anything like that in the tea. Therefore, incidences of side effects are very very low.
During the 14-Day TeaTox, you will find yourself going to the toilet more frequently. This is normal and the point of this detox is to flush all the toxins, bloatiness, and general blahhh feeling out of your system.
Can I drink this tea long term?
We recommend taking the 14-Day TeaTox no more than 1 TeaTox every 3 months.
Yes! No matter how good for you the ingredients are, we know that if you're drinking a tea it must taste good.
Which is why with all our teas, we added a delicious natural fruity flavoring to it, giving you the most intoxicating and delicious fruity tea you've ever had.
Do you offer a money back guarantee?
Yes of course. Like with everything you purchase on VoomVaya, you are always protected by a 60-Day Money Back Guarantee.
If TeaTox Booster does not help you as promised, simply send the unfinished product back to us, and we'll issue a complete refund.
TRY US RISK FREE WITH A 100% MONEY BACK GUARANTEE
Here are some instructions to help you get the most out of your Teatox Booster

Brew 1 tea bag for 5-7 minutes

Drink daily, preferably in the morning

Feel fresher, lighter, & more energized